Tier 2 – Reaching out to families when absences reach 10-19 percent
The goal of Tier 2 is to reduce absences to less than 10 percent. The 10 percent trigger for outreach requires program staff and parents or caregivers to analyze why absences occur and problem solve together to reduce the impediments.
Teachers don't have to handle this alone. Early education program staff—such as family outreach, social services or health staff—can reach out to families with Tier 2 and 3 interventions when absences begin to add up.
Research documents that a child who misses10 percent of school days, typically as few as 2 days per month—excused or unexcused—is at the "tipping point" for affecting student achievement. The Head Start Performance Standards set 10 percent as the threshold for family outreach. ESSA recommends a similar strategy.
Experience suggests reasons for chronic absence among young children fall into three broad categories: misconceptions, barriers and aversions. The Misconceptions, Barriers and Negative Experiences graphic helps educators and families think through what problems need to be solved in order to improve attendance. Each cluster of issues suggests different strategies that might be helpful in alleviating issues that keep a child home. Begin with one challenge you and the family determine is most important place to start.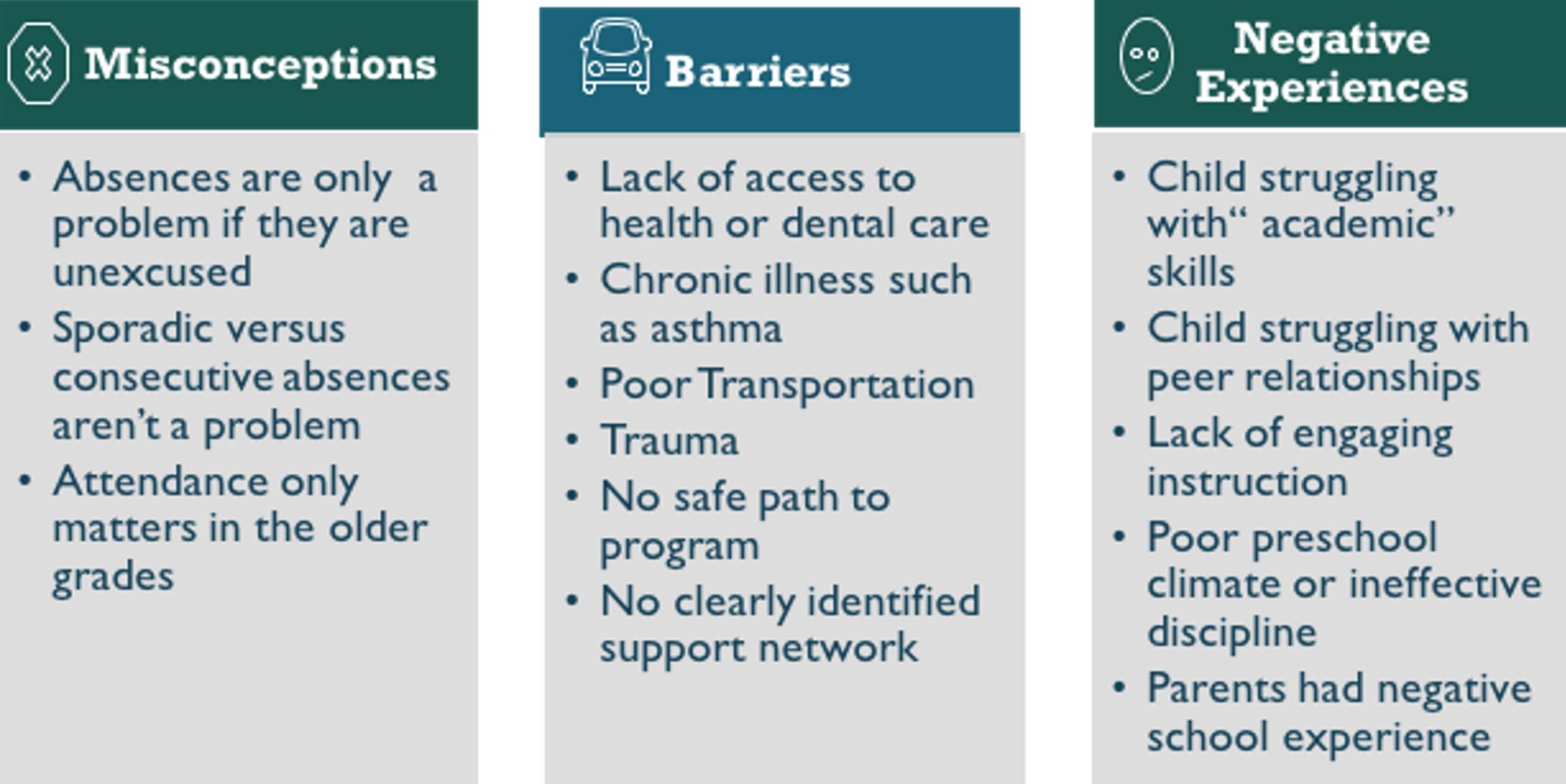 Misconceptions
Parents often don't understand the connection between strong school attendance and strong attendance. A recent survey by the Ad Council shows that most parents have hopes and dreams for their children, but often don't fully understand how missing too many days, especially in the early years, can keep a child from achieving.
The resolution of misconceptions depends on information. Share and discuss the Chicago research and other studies to show parents the quantitative impact of chronic absence. Consider using materials from Tier 1 in a more personalized way to support and encourage parents who may not recognize the value of consistent attendance.
Transportation
Often families have trouble getting children to and from early education programs. Discuss with families the Family Help Bank to explore how to find solutions to these challenges. Perhaps you can help make connections with other classroom parents with nearby addresses to consider a carpool. If the route to school is unsafe a walking school bus may be useful.
Illness
Many excused absences in the early years are because a child is sick. Discuss with families when to send a sick child to school. Offer materials about chronic Illness such as asthma or dental problems.
If your program has access to a school nurse, make sure preschool students visit regularly. If there's no nurse, arrange for medical and dental providers to come to the program for occasional check-ups.
Meet with families of children with chronic health conditions, such as asthma and diabetes, to ensure they have plans in place to deal with the problem. If not, suggest health clinics or providers who can help.
Teach good health habits, such as hand washing, healthy eating and exercise, as well as prevention tips.
Promoting Healthy Food Choices

Tips for Teaching Handwashing

Increasing Physical Activity

Families Fighting the Flu handout
Routines
We've found that having a routine can help young children get ready in the morning and get into bed at night.