Monitoring Attendance in Distance Learning
Attendance Works is proposing a new data framework for monitoring attendance whether school is virtual or blended. This page is a work in progress and offers the latest version of this evolving framework. Check back to this page for updates.
Chronic absence (missing 10% or more of school) for the first seven months of the 2019-20 school year can alert educators to students and families who need extra attention when schools restart. As school districts and schools prepare for the next school year, they can combine data collected prior to school closure and during distance learning to assess who needs support.
For School Years 2020-21 and 2021-22, we recommend adding in four additional key metrics, Contact, Connectivity, Relationships and Participation, these metrics paint a holistic picture of whether students are positioned to benefit from distance and blended learning opportunities.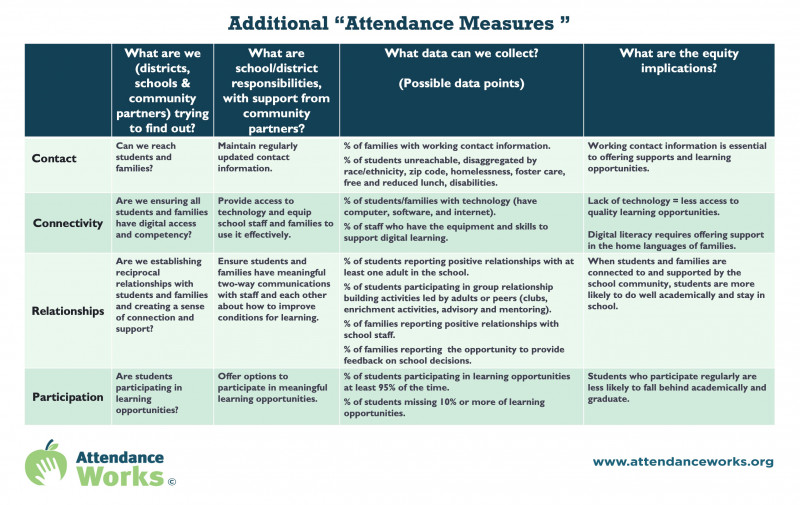 The section below offers a deeper rationale for our recommended metrics to monitor during the 2020-21 and 2021-22 school years.
Five Key Areas for Monitoring
Contact: The pandemic made clear that many schools lacked current contact-information for their students and families. In some cases, families moved suddenly because of lost jobs or health concerns. In others, contacts were outdated.

As part of preparation for the 2020-21 and 2021-22 school years, maintaining current contact information is essential should schools need to close due to new Covid-19 outbreaks or to provide basic supports to students and families.

To assist schools and districts in locating students and families, Attendance Works developed a list of ideas and strategies for locating those who have not been in touch with their schools during the pandemic. These strategies include reaching out through text, phone, email, social media, and mail, as well as contacting friends and neighbors. Once contact is made, educators should focus on addressing barriers to attendance rather than absenteeism per se.

Connectivity: Students and their families need internet access, proper equipment and training on utilizing online learning platforms to participate in distance learning. An estimated 9 million U.S. students do not have internet access at home; about 11 million don't have access to a computer. The trends are worse in rural communities and for students living in low-income communities. School districts should determine which students have access and equipment and determine in partnership local and state government along with community partners how to access the resources to address gaps. Districts and schools should also assess whether school staff have access to needed technology and equipment as well as the skills to use them.

Relationships: Research and experience show that strong reciprocal relationships with caring adults and educators are key to keeping students and families involved in school and learning. Schools and districts should invite student and family feedback on the relationship they have with their schools, including whether they are being invited to participate in decision making, whether there is at least one adult who they can go to for support, and whether they have access to opportunities that support enrichment, and other social interactions.

With support, teachers can make a huge difference by adapting traditional classroom relationship-building strategies to online settings. That can include taking attendance in a caring manner, noticing when students have been absent and welcoming them back, positive messaging, incentives, and social-emotional checkpoints—at either the classroom or individual-student levels. Teachers can also encourage connections among students in virtual classrooms, using group assignments and online chats to keep students engaged with each other. Teachers are especially well-positioned to monitor if students have responded to daily opportunities for interaction. Ideally, staff are connecting to students at least 3 times a week if not daily since the lack of response could be a sign that a family may be experiencing challenges that require support.

Schools can also monitor the extent to which families are responding to outreach and support including for example, picking up or receiving meals, responding to wellness checks, attending on-line office hours or participating in community events.

Participation: Schools and districts should track whether students participate in online classes or access other remote learning. Ideally, participation is more than simply measuring electronically logging on. It is measuring at a human level whether a student is showing up for an entire class, including for breakout sessions with classmates. Doing so acknowledges that even if a school has been able to contact a family, ensure connectivity, and support engagement and relationship building, it is still important to monitor if a student is participating, such posting to chats, showing up to pick up learning materials and showing up to submit complete assignments. If this does not happen, outreach is needed to determine why.

Additionally, schools and districts should within the first two weeks of school identify which students have not shown up for the 2020-21 and 2021-22 school years. Prior analysis of chronic absence data has demonstrated that a low level of student participation in the first weeks of school are a strong predictor of later absenteeism. Utilize this information to organize an outreach effort to find students and families and understand why they are not participating.

Chronic Absence: As long as schools and districts should continue to monitor attendance and participation, they can continue to determine if students are chronically absent. Ideally, districts will monitor when students miss 10% or more of learning opportunities across all modalities – in person, synchronous virtual and asynchronous.
We don't know yet what the collective impact of the lost instructional time this past spring, coupled with even less participation in summer enrichment, will mean for all students and their academic learning.
We do know that showing up matters, and that when students show up to learn, they are more likely to be able to stay on-track, stay engaged and meet major educational milestones. It is more essential than ever to measure attendance and notice which students are facing difficulties in showing up for learning. Our responsibility to use data for early warning, and ensure we are helping schools, students, and families solve the barriers to learning, is paramount to ensuring long-term recovery from this moment.