Attendance Works recommends a tiered approach that starts with foundational supports for the whole school. These foundational supports are followed by prevention-oriented supports for attendance (Tier1), more personalized outreach or early intervention (Tier 2), and intensive intervention (Tier 3).
The Tiers of Intervention
Foundational strategies

are practices for the whole school that promote

positive conditions for learning

. When positive conditions are in place, students are more likely to attend and be engaged. (See graphic below).

Tier 1 strategies are aimed at encouraging better attendance for all students and at preventing absenteeism before it affects achievement.

Tier 2 interventions are designed to remove barriers to attendance for students at greater risk of chronic absenteeism, such as those who missed 10% of the school year, the standard definition of chronic absenteeism. These students and families should receive personalized attention as part of the engagement strategy.

Tier 3 interventions provide intensive support to students missing the most school, often involving not just schools but other agencies such as health, housing and social services, and typically requiring case management customized to individual students' challenges. Students missing 20% or more of the school year benefit from the addition of this intensive level of support.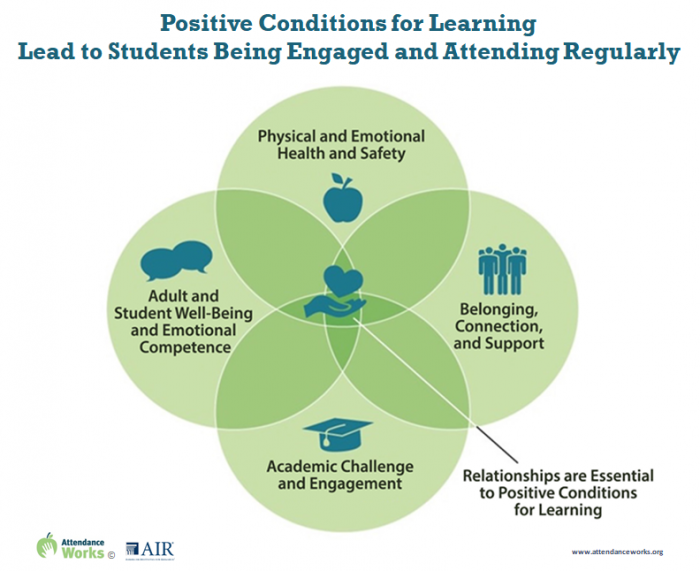 Examples of Tiered Practices
Fill in your own 3 Tiers worksheet
Download a sample worksheet with examples
What Activates Support at Each Tier?
Invest in foundational supports and universal prevention strategies

Monitor attendance data

Intervene early

Initiate personalized outreach to the student and family before the absences add up Updated September 2022