Key Ingredients for Systemic Change
Take a Data Driven Systemic Approach
As the graph below shows, improving attendance is a team not a solo sport and ultimately requires a systemic approach. Our experience working across the country tells us that while attendance improvements can begin in a single classroom or school, the most effective and sustainable approaches are data-driven, supported by strong district, school and community leadership. These key ingredients of change, taking a systems approach, can be applied to district and state-level action and policy – which are ideally working in alignment with each other.
Find resources to implement each step below the graphic.
Click on the graph below to enlarge.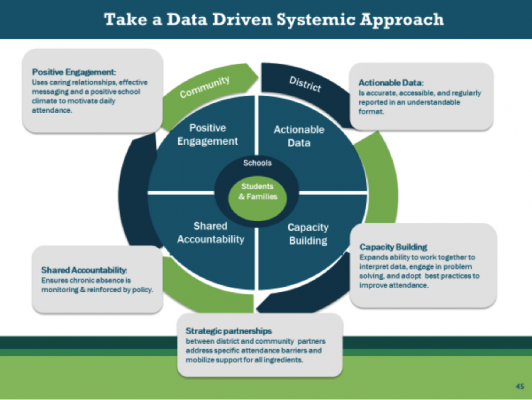 Positive Engagement
Positive engagement helps build culture of attendance by taking a positive not punitive approach, helping everyone understand why going to school every day matters and what they can do to ensure students are in school.
Actionable Data
Attendance Works offers free data tools designed specifically to track chronic absence at the district and school levels. The tools can be used to develop reports highlighting chronic absence patterns by school, grade, and student subgroups so that decision-makers can take action.
Capacity Building
It is essential to build the skills and knowledge of school staff and community partners to understand what chronic absence is, why it matters for student achievement and success, how it differs from truancy, and how to respond effectively by organizing a multi-tiered approach to reducing absenteeism.
Shared Accountability
Administrators are more likely to pay attention to chronic absence when it is built into accountability systems. These systems used by districts and states measure progress and identify where additional support is needed to improve student performance.
Strategic Partnerships
Strategic partnerships between district and community partners can help schools address systemic barriers to attendance. Partnerships also mobilize resources for the key ingredients: Capacity Building, Positive Engagement, Actionable Data and Shared Accountability.