Research by Attendance Works
For the full list of research and reports, please visit the All Research page.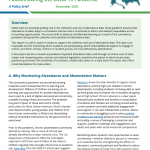 Are Students Present and Accounted For? An Examination of State Attendance Policies During the Covid-19 Pandemic, by Attendance Works, discusses how the coronavirus pandemic impacted attendance data. It presents a summary of state attendance guidance developed since spring 2020, and examines the extent to which recent state guidance guarantees the availability of consistent, reliable data taken on a daily basis.