Research by Attendance Works
For the full list of research and reports, please visit the All Research page.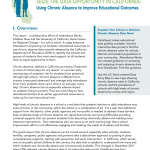 Attendance Works, the Center for Regional Change, University of California Davis, and Children Now, May 2018. This report a call to action urging anyone interested in improving educational outcomes to use chronic absence data recently released by the California Department of Education to identify which schools and groups of students most need support, so they have an equal opportunity to…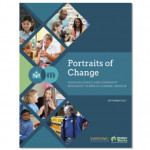 This report, Portraits of Change: Aligning School and Community Resources to Reduce Chronic Absence, by Attendance Works and the Everyone Graduates Center, September 2017, provides a national and state analysis of how many schools face high levels of chronic absence and discusses the implications for state and local action.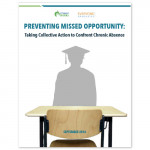 Attendance Works and Everyone Graduates Center, September 2016. This brief builds on the first national chronic absence data from the U.S. Department of Education's Civil Rights Data Collection from the 2013-14 school year. The analysis finds that half of the 6.5 million students who are chronically absent nationwide are concentrated in just 4 percent of school districts. The analysis also…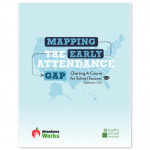 This report shows how disparities in school attendance rates starting as early as preschool and kindergarten are contributing to achievement gaps and high school dropout rates across the country. The report also highlights the connection between health and attendance and the power of states to tackle absenteeism by tapping key champions, leveraging data, and learning from places that have improved…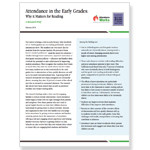 Attendance Works and the Campaign for Grade-Level Reading, February 2014. This brief summarizes a growing body of research which documents how many youngsters are chronically absent, meaning they miss 10 percent or more of the school year due to excused or unexcused absences. The research also shows how these missed days, as early as preschool, translate into weaker reading skills…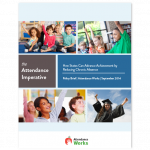 Attendance Works. Released in September 2013 and updated in September 2014, this brief describes the steps that states can take to reduce chronic absence including: building public awareness, tracking and publicly reporting chronic absence rates for schools and districts, using attendance as a metric in school improvement efforts, sharing best practices with educators and parents, and enabling interagency efforts among…