Early and Often: Showing up in Preschool Matters
Preschool is the ideal time to introduce children and families to the importance of consistent on-time attendance and to encourage strong attendance habits. Educators, policymakers, researchers and families agree: Early education is vital to a child's success. A high-quality preschool program can build early literacy and math skills, as well as develop the social and emotional foundation children need to persist in school. But preschoolers – whether in Head Start, public pre-kindergarten or in a private program – only receive the full effect of these benefits if they show up for class regularly.
It turns out that attendance matters as early as preschool in high quality programs. Research from Chicago shows that preschoolers who miss 10 percent or more of the school year – in excused or unexcused absences – arrive at kindergarten with lower levels of school readiness skills. Especially, if young children are chronically absent for more than one year, they are less likely to read proficiently by the end of third grade, and more likely to be retained in elementary school.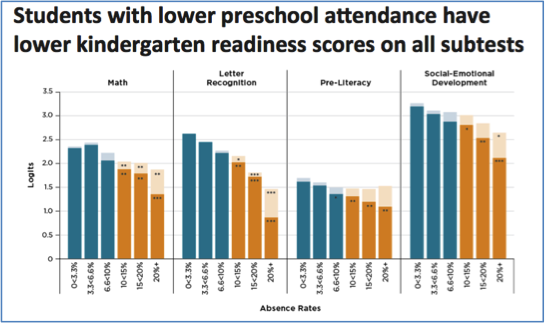 Absenteeism affects all children but its impact intensifies among children whose families lack the resources to make up for lost time. Read this research summary for more detail.
Many, if not most, of the missed days in preschool are excused absences called in by parents. Some are clearly unavoidable: Young children get sick, especially when they first start school. Other absences occur because families face real barriers, whether it's a chronic health problem, a sudden move to a new home or a broken down car.
Surveys and focus groups reveal that despite an overall appreciation of attendance and its relationship to academic achievement, two misperceptions consistently surface.
MISPERCEPTION: Absences only matter if they occur several days in a row. Few recognize the cumulative effect of a day here and a day there of absence, but research tells us the impact is profound.

MISPERCEPTION: Absences only matter from first grade forward. There is growing evidence that preschool education is important to school readiness and to reading on grade level by grade 3, a pivot in children's success in school.
Teachers and administrators can help debunk these misperceptions and support improved attendance through their activities with children and families. The goal of the Early and Often toolkit is to help high quality preschools engage families so that they get their children to attend preschool every day possible. Key to this goal is motivating children so that they want to show up every day. Programs are also more likely to be successful when they use attendance data and create a team to plan and implement the work. Ideally programs combine attention to attendance with on-going efforts to ensure quality early learning experiences.
Print an Executive Summary of the Early and Often Toolkit
Production of Early and Often was made possible by the generous support of The Henry and Marilyn Taub Foundation, the Kenneth Rainin Foundation and the W.K. Kellogg Foundation
Who Can Make a Difference?
Children: When they get excited about coming to preschool every day and convey that enthusiasm to their parents and caregivers.

Families: When they understand that preschool absences matter, feel welcome and respected, value their children's attendance and seek help as needed to overcome barriers.

Staff: When they create a positive first school experience and build attendance messaging, tracking, problem-solving and celebrating into preschool routine.

Community: When partners reinforce messaging and provide resources to help families overcome barriers to attendance.