Determine Priority Grades
Leverage your chronic absence data to decide whether to focus on one or more elementary grades for the entire district, or let elementary school leadership determine where to start the program based upon their own data and strengths. Consider a review of your data, your available assets, and the target population to make a decision that fits your community.
Start by reviewing your district's data. Examine the percent and number of students who are chronically absent by grade, as well as across all schools. Typically, elementary chronic absence is highest in kindergarten and then it gets better in the upper elementary grades. Districts that monitor attendance in preschool often produce numbers that show chronic absence is even higher in these early years. And within the same district, chronic absence usually can vary significantly across schools. This chart produced by our District Attendance Tracking Tool shows how chronic absence can vary significantly across schools. A close look at these variations can help to identify schools struggling with poor attendance as well as bright spots, or schools with lower levels of chronic absence despite high levels of poverty, that are already taking steps to improve attendance. The data by grade can help you determine if your district should focus on particular grades, while the data by school can reveal if a particular cluster of schools within the district might need more support in addressing chronic absence. Sometimes, especially in smaller districts, a review of the data could reveal that the total number of chronically absent students across all elementary grades is relatively modest. If this is the case, the district might decide to target all elementary grades. Keep in mind that your district can share aggregate data on chronic absence by school and by grade with community partners and stakeholders whom you wish to engage in these discussions without worrying about confidentiality. The data can be shared as long at it is not possible to determine an individual student's identity from the information.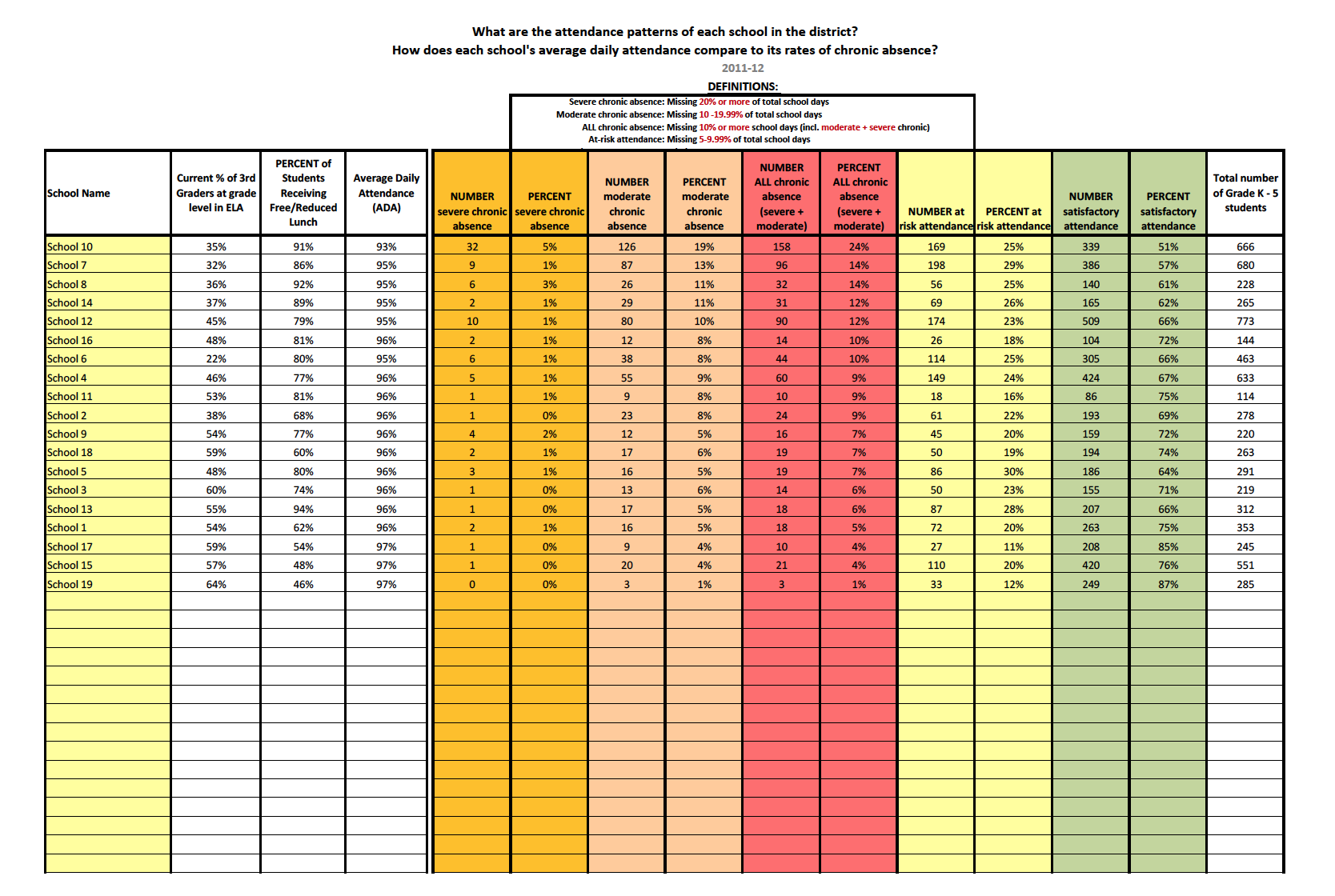 Reflect upon the currently available or anticipated resources needed to tackle the work. A key element of sustainability is making sure that you are leveraging available resources to help support implementation. Perhaps your district can leverage an existing initiative – such as a kindergarten readiness program, or elementary version of Positive Behavior Intervention and Supports (PBIS), a tiered approach to improving student behavior –that can offer a perfect opportunity to launch the work. If the district data shows that a particular neighborhood is struggling with high levels of chronic absence, perhaps the work can be aligned with existing community resources targeting the same geographic area, such as a community schools or neighborhood revitalization effort.

Consider choosing a target population based on need, the number of students who would be served and available community resources. By selecting a particular grade, such as kindergarten or first, districts can tailor the program's resources and materials to meet the needs and academic abilities of the children in that grade. If your district has a strong history of local control, it may make more sense to provide participating schools with the authority to decide where to start the program.