Stay the Course: A Winter Messaging Toolkit
Stay the Course: Support Attendance, Engagement and Learning in the Winter Months
Every winter, bad weather — snow, slush, freezing temperatures or even heavy rains — can present challenges to getting children to school. So do the colds, fevers and earaches that often come with the winter months. On top of all that, hardships have worsened for many and students may have to stay home due to Covid-19 or flu.
These conditions mean it is even more important to communicate with parents and caregivers about the importance of learning and offering support and partnership to help them overcome the challenges! Too many absences can make it hard for students to stay engaged, connected and learning.
The tools and resources in this winter messaging toolkit (below) can help parents/caregivers and community members keep children healthy and develop strategies and plans to overcome weather-related barriers that stand in the way of getting children to school. While such extra steps are important for all families, they are even more important for students and families who depend on public transit or walking to get to school or who lack adequate access to health care.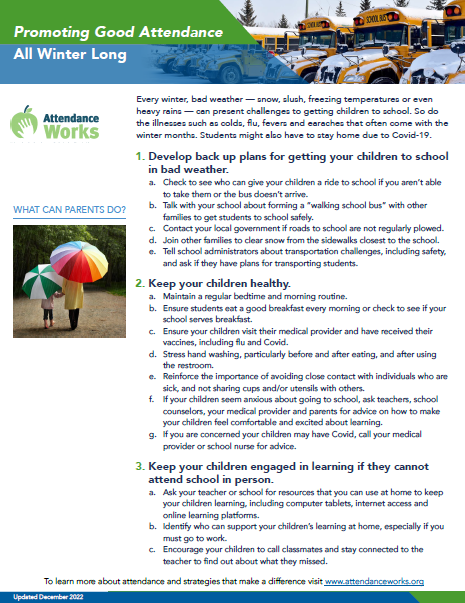 Download our ideas for schools and community leaders