Interactive Map: Chronic Absence in California
Attendance Works, The Center for Regional Change at UC Davis and the School of Education at UC Davis collaborated on a chronic absence data map so everyone can see absenteeism rates in their schools and throughout their districts and regions. Download a Users Guide which shows different ways to use, search and filter the map based on questions about chronic absenteeism in California.
LEGISLATION AND STATE POLICY
The Chronic Absence and Attendance Partnership (CAAP) has been the leading advocacy network promoting the chronic absence related events and achievements described on this page. CAAP is led by Attendance Works, Children Now and the Partnership for Children and Youth.
CAAP works to improve outcomes for students at risk of poor academic performance and dropping out of school. CAAP seeks to raise awareness, promote the collection and use of data on attendance, support the development of early warning systems and promote the use of chronic absence data to help schools and community agencies (including health services, family resource centers, afterschool, and early childhood programs, etc.) coordinate their resources.
Data & State Policy at a Glance
Definition of chronic absence: Missing 10% of school of the school year for any reason including excused and unexcused absences. Suspensions are included. Click here for California's definition of a "chronic absentee."
Definition of truancy: 3 absences without a valid excuse or 3 times late to class by 30 minutes. Click here for more information.
Accountability for addressing chronic absence: Under California's Local Control Funding Formula, chronic absence is an accountability measure for pupil engagement. Districts are required to report on this measure and describe how they will address it when submitting their Local Control Accountability Plans.
Attendance included in state longitudinal student data base:
Chronic absence calculated annually:
Chronic absence data publicly available:
Connection between attendance and state aid:
Tied to average daily attendance
The Los Angeles Unified School District (LAUSD) developed Notice of Truancy letters in several languages, including Spanish, Korean and Armenian. The letters for first, second and third notice begin on page 234 in the district's Attendance Manual.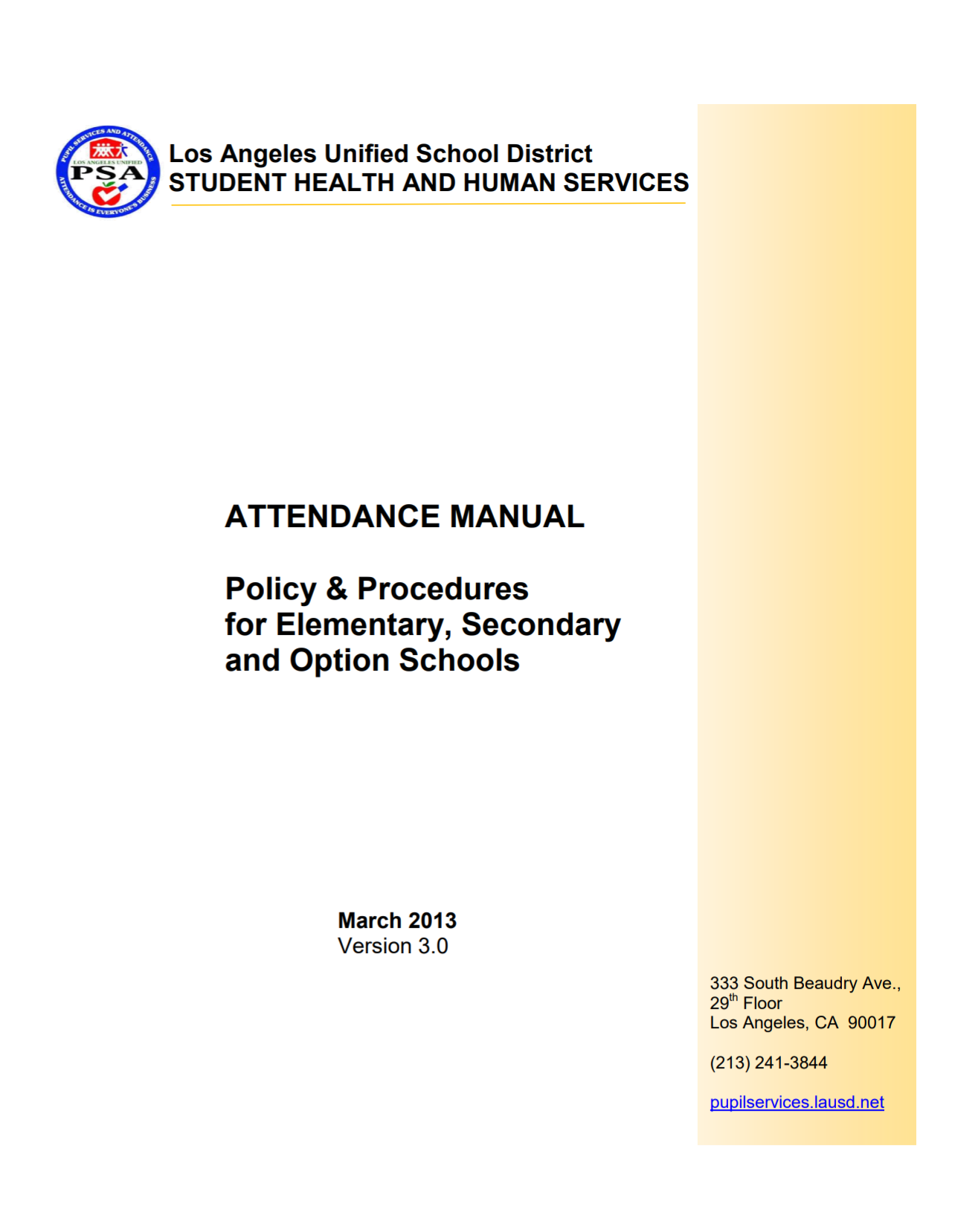 Attendance Works wrote a brief for district decision makers in California. The brief, Making Data Work in California, provides guidance on collecting and using chronic absence data while leveraging Student Information Systems (SIS). It highlights opportunities for using data to meet new requirements in CALPADS and the Every Student Succeeds Act.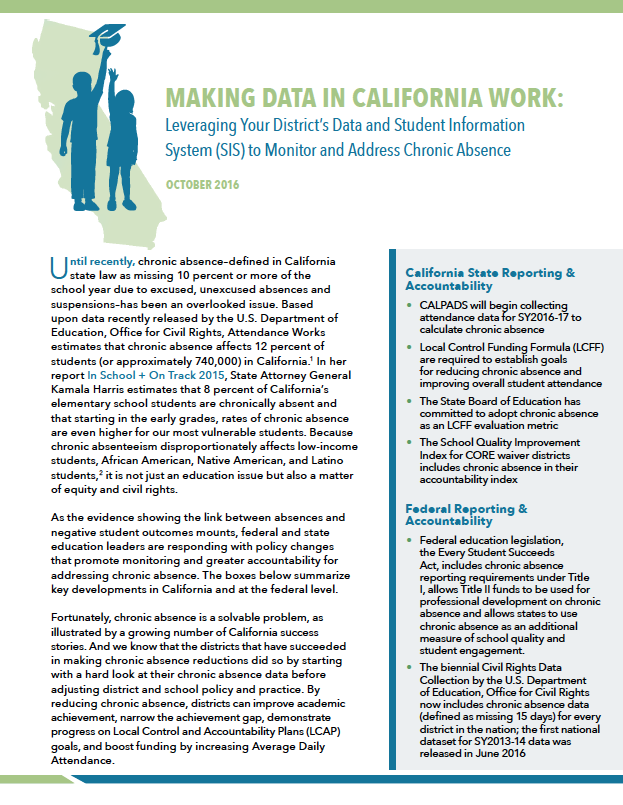 Attendance Works created this toolkit for California principals. Principals are uniquely positioned to ensure their schools adopt a comprehensive, tiered approach to improving attendance that fits with their overall approach to promoting academic achievement.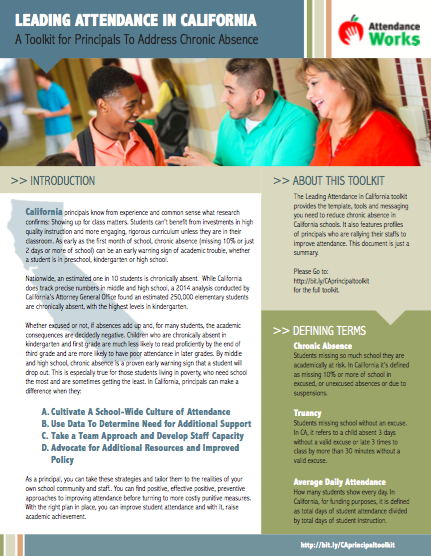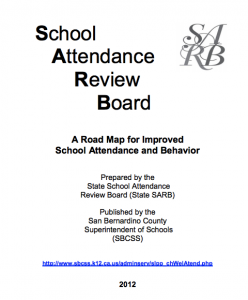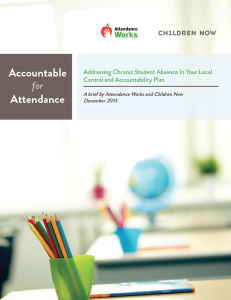 Read Mapping the Early Attendance Gap: Charting A Course for School Success. This report, released by Attendance Works and Healthy Schools Campaign in September 2015, encourages states to dig deep into their attendance data and determine the who, what, when, where and why of their chronic absence problem. Read the in-depth state profiles for California, Rhode Island, and Utah.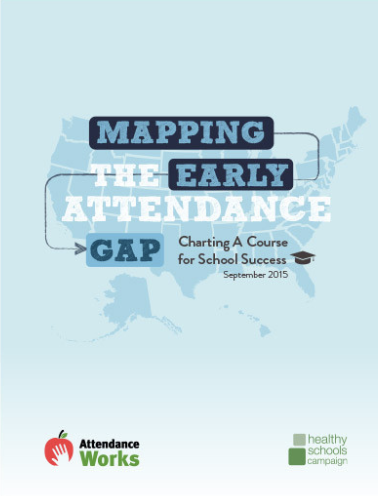 California School Boards Association: The Association developed this fact sheet to help school boards develop the best policies and practices for addressing chronic absence.

Attendance Works released new data tools tailored for California school districts in April 2015.

Hayward: Hayward Unified School District in California's Bay Area knew that many of its students were missing too much instructional time. But when it came to addressing the "attendance problem" more comprehensively across the district, Hayward officials needed some support. Read more here.
Oakland: The Oakland Unified School District in California is a leader in tracking and addressing chronic absence, using a city-wide approach that has reduced chronic absence rates from 16 percent in 2005-06 to 11.9 percent in 2013-14. Read more here.

2015 Webinar on California Principals
The California Department of Education, the Campaign for Grade-Level Reading and Attendance Works hosted a webinar Nov. 4 at 3 p.m. PT spotlighting the work of California principals who have led their schools and communities to do the hard work of reducing chronic absence. View the recording here.
2015 Chronic Absence Regional Summit
State education and law enforcement leaders came together with about 300 educators in California's Riverside County on Sept. 18, 2015 to discuss strategies for improving school attendance. The Reducing Chronic Absenteeism Regional Summit drew a range of stakeholders, including state Superintendent of Public Instruction Tom Torlakson; Jill Habig, Special Assistant Attorney General of California; Attendance Works Director Hedy Chang; Riverside County District Attorney Michael Hestrin; and Riverside County Superintendent, Kenneth Young. One local district, Corona-Norco Unified, was specially recognized for its effective, data-driven approach to reducing absences.
2014 News Conference
California state leaders gathered in Sacramento to recognize Attendance Awareness Month and launch an interagency effort to combat chronic absence. State Superintendent of Public Instruction Tom Torlakson, Secretary of Health and Human Services Diana S. Dooley, Assembly Member Shirley Weber, Superior Court Judge Stacy Boulware Eurie and Special Assistant Attorney General Jill E. Habig each committed to address chronic absenteeism in their own arena. Watch it live here.
2013 Policy Forum
Working Together: An Interagency State Policy Forum on Chronic Absence featured state Superintendent of Public Instruction Tom Torlakson and State Secretary of Health and Human Services Diane Dooley, along with other state officials, discussing how agencies can work together to reduce chronic absence.