Leading Attendance in CA: Principals Toolkit
A Toolkit for Principals to Address Chronic Absence
Principals know from experience and common sense what research confirms: Showing up for class matters. Students can't benefit from investments in high-quality instruction and more engaging, rigorous curriculum unless they are in their classroom. As early as the first month of school, chronic absence (missing 10 percent of school days, an average of just two days a month) can be an early warning sign of academic trouble, whether a student is in preschool or high school.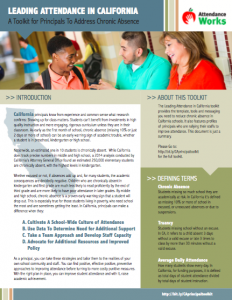 Nationwide, an estimated one in 10 students are chronically absent. While California does not know the precise number of chronically absent students in middle and high school, a 2014 analysis by the California Attorney General's office found that an estimated 250,000 elementary students are chronically absent. The highest levels were in kindergarten.
Whether excused or not, absences add up. The resulting loss of instructional time can be substantial and, for many students, the academic consequences are decidedly negative. Children who are chronically absent in kindergarten and first grade are much less likely to read proficiently by the end of third grade and are more likely to have poor attendance in later grades. By middle and high school, chronic absence is a proven early warning sign that a student will drop out. This is especially true for those students living in poverty, who need school the most and are sometimes getting the least.
The good news is that chronic absence is a problem we can solve. Attendance improves when schools and communities work with families to monitor absences and to identify and address barriers that re keeping students from getting to class. While everyone can help students show up every day, principals are uniquely positioned to ensure their schools adopt a comprehensive, tiered approach to improving attendance that fits with their overall approach to promoting academic achievement. Such a tiered approach is easily incorporated into existing reforms that can be expanded to include specific attention to chronic absence data and support to cultivate good attendance.
In California, principals can make a difference when they:
Click on the links above to find tools and templates for each topic.
As a principal, you are positioned to take these strategies and tailor them to the realities of your own school community and staff. Draw upon your knowledge as well as that of key staff members, parent leaders and, if available, informed community partners. Use the resources in this toolkit to tailor a plan for reducing chronic absence that suits your school's strengths and shores up its weaknesses. You can find positive, effective, preventive approaches to improving attendance before turning to more costly punitive measures. With the right plan in place, you can improve student attendance and, with it, raise academic achievement.
Listen to the California principals webinar:
Next: A. Cultivate a School-wide Culture of Attendance
Leading Attendance in California was produced with the generous financial support of the California Endowment, the Californians Dedicated to Education Foundation, the Campaign for Grade-Level Reading, the W.K. Kellogg Foundation and the Re(a)d Zone, a Bay Area early literacy initiative of the 50 Fund, the legacy fund of the Super Bowl 50 Host Committee.
While the views expressed in this toolkit are ultimately those of Attendance Works, we deeply appreciate being able to draw upon the expertise and insights from colleagues with the California Department of Education, the Californians Dedicated to Education Foundation, the Region IX Equity Assistance Center at WestEd and the California County Superintendents Educational Services Association.