Create a Welcoming Environment that Engages Students and Families
Teddy Roosevelt once observed: "People don't care how much you know until they know how much you care."
We know a lot about what constitutes effective messaging about absenteeism, but the messages aren't always heard if we do not take the time to establish a positive relationship that shows we care about the student. Such a relationship doesn't happen overnight. It involves building a trusting relationship, learning how to leverage the strengths and assets of a student and family and helping them overcome challenges to getting to school.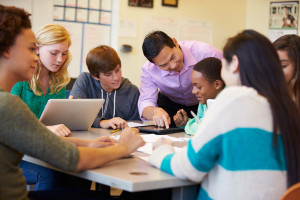 Research and experience shows that attendance improves when a school community offers a warm and welcoming environment that engages students and families and provides enriching learning opportunities. Students are more likely to come to school when they feel safe, know that someone at the school cares about them, and when there are exciting and relevant lessons. Families are more likely to to make sure their children are in class every day when they know school staff are looking out for their children's best interest and when they understand the potentially adverse impact of absences, even just two days a month, on academic success.
View this video created for the Atlanta Speech School where educators provided a warm and welcoming climate for students.
Educators are essential to ensuring all of the students in a school feel welcomed and engaged and learn about the importance of daily attendance. Making a difference doesn't necessarily require extra work. Rather, it involves strategically infusing attendance and the power of positive relationships into everyday interactions with students and families.
Here are four strategies educators can use throughout the school year to encourage students to attend school every day: