Showing Up Matters for R.E.A.L. Step 4
Engage Community Partners
Addressing today's chronic absenteeism and creating a school environment that supports the R.E.A.L. framework requires an all-hands-on-deck approach. Community partners can be the extra set of hands to support school staff that have been stretched thin during the pandemic.
Community partners are external organizations that are able to provide programs or services that expand and complement students' learning and engagement opportunities. Choose partners that can support building relationships and engaging students and families in identifying and addressing attendance barriers.
Partners can be local organizations or agencies, or national nonprofit groups. Local groups can bring knowledge about the needs and the resources available to help schools put in place culturally relevant programming and support students and families struggling with food, health services, housing or other issues.
National (and local) nonprofit organizations or nearby colleges can provide volunteers and resources to support enrichment, tutoring, mentoring or other programs needed to re-engage children and youth. Businesses can support incentives and career internships, and agree to only hire high school students for jobs that take place outside of school hours.
Schools can find partner groups that are representative of their school community by prioritizing grassroots organizations that have relationships with the school's students and families.
If you are unsure about where to begin, start by identifying barriers that keep students from showing up to school and who could help. (See image below)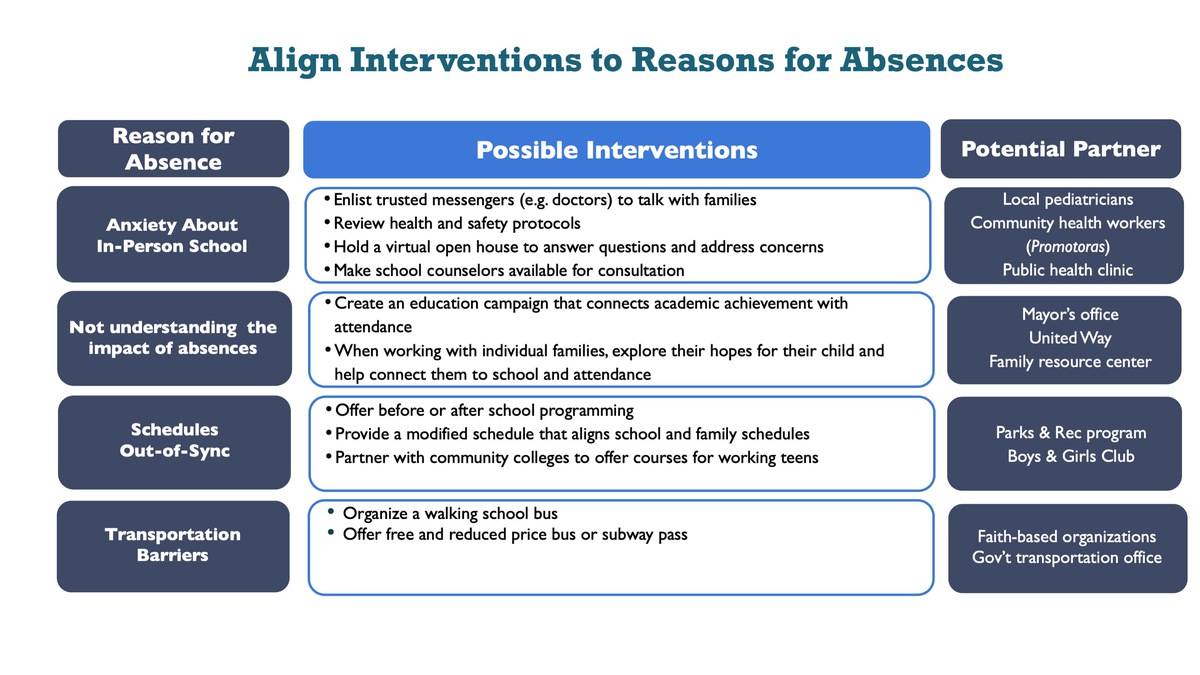 Use these ideas and resources to engage community partners in addressing chronic absenteeism.
If you need help identifying community partners, use United Way's 211 system. To expand the number of partners who can help with specific services such as temporary housing, food or medical care, use FindHelp.org.
Reach out to more than one community partner to help provide supports most needed by students and families. Use this worksheet to help track potential partners.
Click on the Community and Agency Partner names below to learn how they can support attendance efforts and to download a resource to help you make the case for partnership.