Early Matters: Site Level Practices
Equip Families to Connect Attendance and Educational Success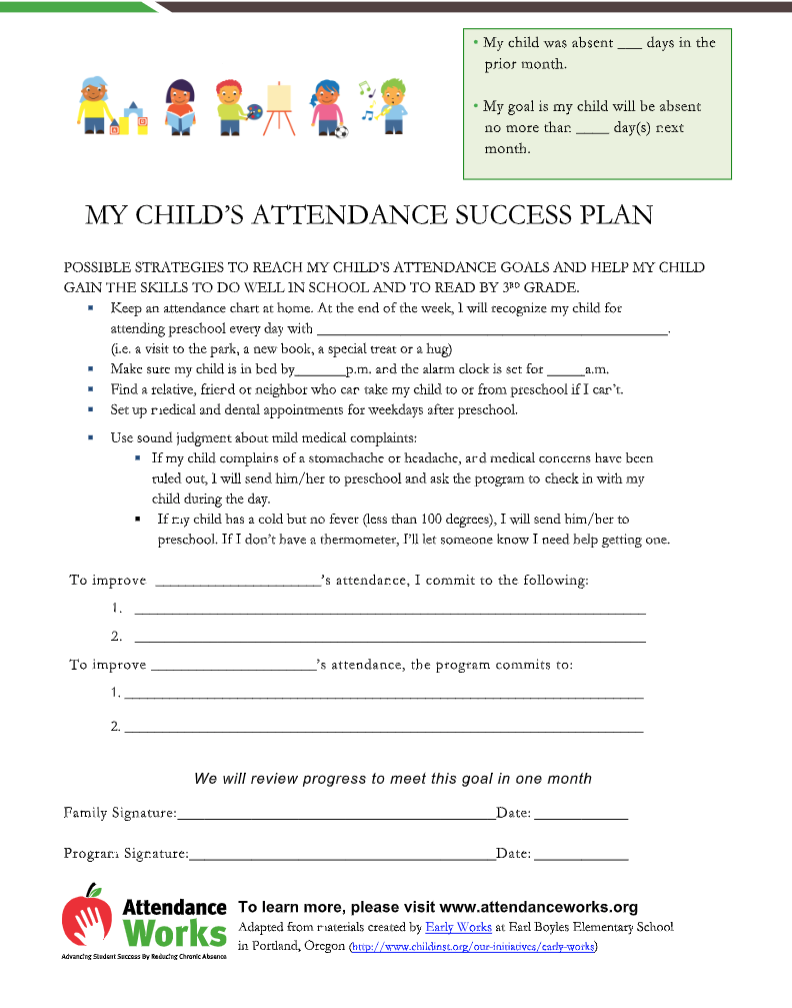 Children whose families hold high expectations, set goals, monitor progress and actively assist with learning at home are most likely to do well in school. As children enter formal schooling, families need to know what their children will learn, how they can assess if their children are on track for academic success and what they can do to support their children's success, including how to monitor and support good attendance.
Schools, preschools and communities can provide parents with a variety of opportunities to learn about how to support their children's education. Integrating attention to attendance into these efforts is essential. Whether providing information and advice through online or written communications or workshops, educators and community partners can, for example, provide strategies families can use to improve attendance through their parenting practices at home. Educators and community partners can encourage parents to disclose health, behavior and learning needs that impact attendance, and also point out when absences are problematic as part of helping families interpret their child's report card. These learning opportunities for parents often are offered starting in the beginning of school and can continue throughout the school year.
If resources are limited and the data exists, schools should consider prioritizing outreach and supports to families identified as chronically absent in preschool or who did not have any opportunity to participate in formal preschool. Research shows such families are at greater risk for future chronic absence.
Consider these ideas and resources for helping families pay attention to attendance while supporting their child's overall academic success.
Encourage families to develop plans for promoting attendance and monitoring data. The Attendance Works student attendance success plans help families identify what they can do to promote effective attendance and who can help get their child to school. It includes a calendar so families can monitor their child's absences. Another option for tracking at home is the Perfectly Punctual Scorecard. It encourages children and parents to become more aware of their own attendance patterns. Consider having children bring it to school weekly for recognition.
Make sure parents are aware of their child's attendance and what they miss when they are absent from school. Written notifications as well as texting or other technologies can all be used to encourage families to maintain good attendance and alert families when their child is academically at risk due to too many absences. Ideally, these notifications express concern about the student's absences and let families know that someone from the school is available to help them address barriers to getting to school every day. These strategies are particularly effective when combined with conversations with a teacher, attendance clerk or other school staff. See this Connect-Text initiative which resulted in significant reductions in kindergarten chronic absence.
Let families know about attendance policies and practices in your school. Make sure parents are aware of the number of absences that will trigger contact from the school to express concern about attendance and help them know what they can do to correct mistakes in attendance data.
Show families a sample report card and explain how to interpret the data, including attendance. Provide information to parents – on the school website, in parent workshops, through handouts – that explains what is in a report card. Include specific tips to help parents understand that missing just two days a month is a problem. Find sample report cards on the lower half of our State Attendance Policy page.
Integrate attendance into parent teacher conferences. Adult-teacher conferences are an ideal time to share with families how regular attendance will support their child's achievement. See these tips for leveraging parent- teacher conferences.
Consider the need for an IEP meeting and schedule it quickly when absences are clearly connected to the student's disability.
Select parent leadership programs that include attention to chronic absence. Parent leadership programs help families understand the important role they play in their child's education. Abriendo Puertas/Opening Doors is an example of such a program.
Connect with Head Start , and local community-based organizations that provide skill development programs for preschool families. Build on that base to identify potential parent leaders and bring the benefits of those programs into your school.
Consider adding relational home visiting to your school. Parent Teacher Home Visits (PTHV) offers training and support to staff and schools hoping to adopt a relational home visit approach. Research shows that relational home visits improve attendance and provide significant dividends for the children, families and schools.
Inspiring Examples
Click here to read how educators have successfully integrated attendance into efforts that support their children's education.
Explore Early Matters: Integrating Attendance Into Kindergarten Transition Toolkit
Site Level Practices

Schools, preschool and districts can integrate attendance into these five site level practices that support the transition to kindergarten

District and Community Supports

Whether or not preschools and schools integrate attendance into the site level practices is heavily influenced by whether districts and other key community partners work together to put in place systems to support adoption of good practice at scale. These supports create a foundation for infusing attendance into kindergarten transition efforts.