Important Notice: Attendance Works is extremely concerned about the health and economic impact of the coronavirus on the attendance, health and well-being of all students. We advise suspending use of our When Is Sick Too Sick for School? handout while the United States is grappling with coronavirus disease 2019 (COVID-19).
The U.S. Centers for Disease Control and Prevention (CDC) has developed interim guidance and resources for K-12 schools and childcare programs to help plan, prepare and respond to coronavirus disease 2019. Learn more from the CDC here.
----------------------------------------------------------------------------
Illness plays a significant role in early childhood absences. Help families understand when to send a child to school or keep her home and manage chronic conditions. When illness-related absences begin to add up, you can bring it to the attention of others, such as the school's family outreach or health staff members.
Families often don't understand when their child is too sick for school, and when they can safely send them in. This handout provides some clarity.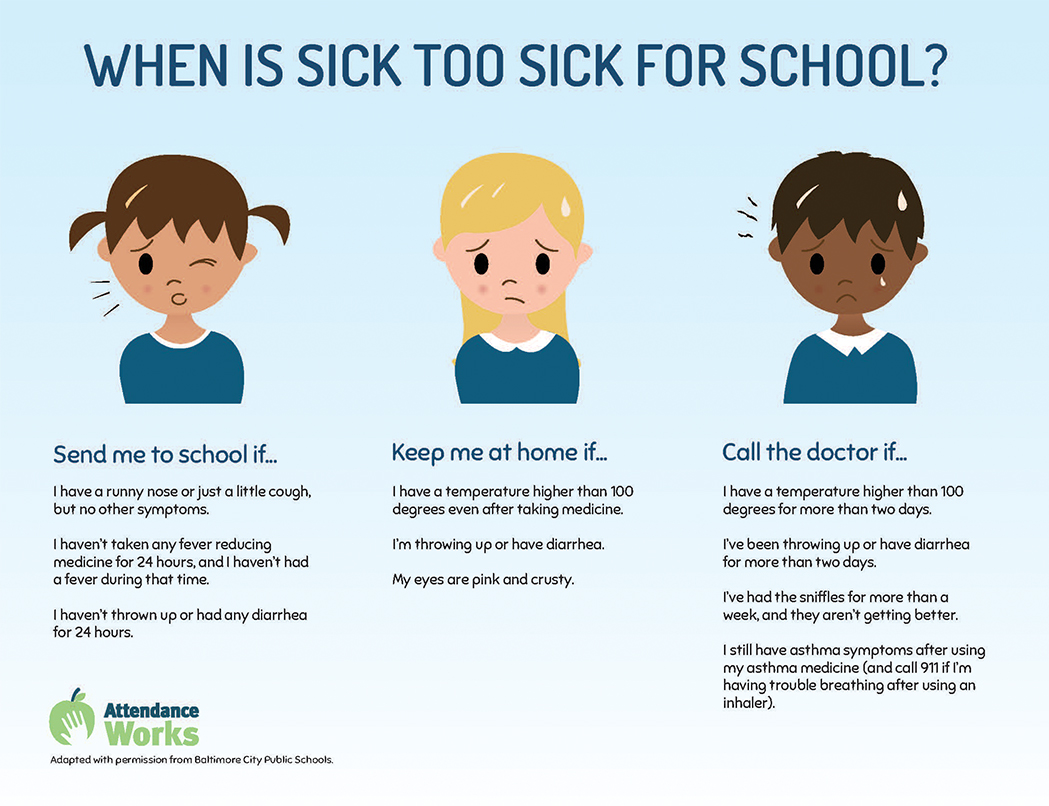 Attendance Works handouts are free to download and reprint. If you want to repurpose the same content in another format, please credit Attendance Works with our logo and/or a line stating "Used with permission from Attendance Works."
Organizations wishing to alter the language on the How Sick is Too Sick flyer to reflect local district policies are allowed to do so, but they must add their own logo and the statement "Used with permission from Attendance Works. The language has been adapted to reflect local policies."
Read more about our Usage Policy. Questions? Contact Cecelia Leong, cecelia@attendanceworks.org
If you'd like to add your logo see our Customizing Guidelines