Across the Pittsburgh region, schools, volunteers and community partners are delivering a consistent message to students about school attendance: Be There! Launched in 2013 by the United Way of Allegheny County, the Be There Campaign has reached 12,000 students across 21 school districts. More than 500 volunteers have been engaged, 300 community partners are committed to the campaign, and 12 partners are serving on the advisory committee.
The campaign blends a county-wide messaging campaign with a community-based, data-driven approach to ensure that fewer students fall behind academically because of chronic absenteeism.
Joshua Childs, at the University of Texas at Austin published an update of Pittsburg's Be There Campaign in National Civic Review.
In the fall of 2013, the United Way, in partnership with the University Of Pittsburgh Office Of Child Development, invited Pittsburgh Public Schools and 42 other local school districts, along with community partners, to a forum and preached the power of attendance data. "Sometimes you need a big event to focus everyone on the data," says Kathryn Vargas, the United Way's Manager of Programs for Children and Youth. "The level of buy-in from the school districts and our community partners at the beginning was very important."
The day before the forum, the United Way and the Office of Child Development also collaborated with Pittsburgh Public Schools to ensure it had even greater support to carry out these ideas. They held a series of special sessions to engage principals, parents, early childhood providers and others in understanding what chronic absence is, how they could make a difference, and what the district's data revealed.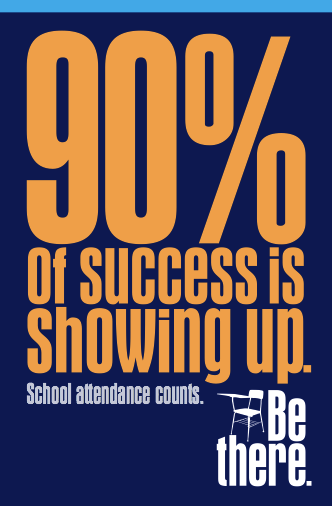 Like many community efforts, the Be There Campaign emphasizes positive messaging and incentives that can encourage all students to come to school regularly. An Attendance Challenge Toolkit lays out the different sorts of contests and incentives that schools can offer and provides a step-by-step guide to successful challenges. There are free resources given to anyone interested, including stickers, small incentives and school supplies, as well as posters. The Be There staff share these materials with schools and programs to be used with students and families when communicating the importance of attendance.
Communicating and working with parents is also a priority of the campaign and its partners. "There's something to be said about talking directly to parents and getting them information," says Shauna McMillan, who directs the campaign. "Letting parents and families know that just two days a month constitutes a 10% absence rate, and explaining the negative effects of it on their child's education is extremely eye opening for most. In many cases, I find families have no idea about the consequences, and they look horrified when they find out. "
Parents are also important partners and champions of the campaign in the community among their peers and fellow parents.
Data-driven Interventions
The campaign went beyond messaging to develop a broader community effort that could delve into attendance data and hold school districts accountable. An analysis of attendance data from the 2011-12 school year found that 23 percent of Pittsburgh Public Schools students missed at least 10 percent of the school year. Less than half of those chronically absent high school students had a 2.5 grade point average, the milestone needed to receive a college scholarship through a philanthropic initiative known as the Pittsburgh Promise. Likewise, chronic absence in kindergarten was associated with lower reading and math scores in third grade.
The United Way works closely with schools to help them use their best and most accurate attendance data in setting up incentives and a positive communication strategy for their school building. "School social workers emerged really clearly as the people who would lead the work," Vargas says. "They are looked at for a lot of things: They are counselors, they do all the truancy filings. They deal with the repercussions of absences all the time."
By focusing efforts on building a school culture that includes proactive and positive school-wide attendance improvement efforts, the campaign is able to better reach students and families with the Be There message, and school social workers are better able to use their attendance data to determine supports needed for students.
In addition, during the 2014-15 school year the United Way of Allegheny County supported a University of Pittsburgh School of Social Work MSW intern in two Pittsburgh Public 6-8 schools. These interns are responsible for regularly communicating with 20 to 25 students who historically experienced attendance issues jeopardizing their academic performance. The role of the intern includes welcoming the students each morning, checking in with them midday, discussing attendance issues that might arise, and calling home when these students are absent. The MSW student also helps to implement school-wide attendance messaging efforts.
Data is showing promising results. As of this March, 40% of the targeted at-risk students have shown an increase in their attendance, while 32% of the students moved out of chronic absence in the past year. This does not include the 20% of those targeted students who stayed out of chronic absence altogether.
Be There hopes to launch a similar initiative in additional school districts in the next school year.
The Be There Campaign works closely with community partners who are also incorporating a focus on improving attendance as a key part of their own organization's work. Some highlights include: