Principals and school leaders know from experience and common sense what research confirms: Showing up for class matters. Leading Attendance, a new toolkit from Attendance Works, equips principals with the templates, tools and messaging needed to reduce chronic absenteeism. It also features profiles of principals who are rallying their staffs to improve attendance. Do you know someone like that?  Nominate them for a profile, using this form.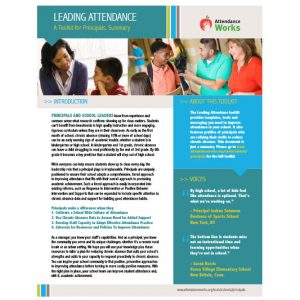 The toolkit details how principals can:
View the Leading Attendance Toolkit here
Download the Leading Attendance Summary here.