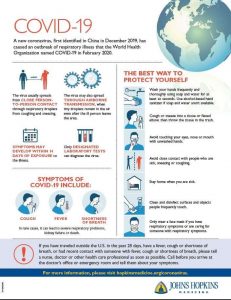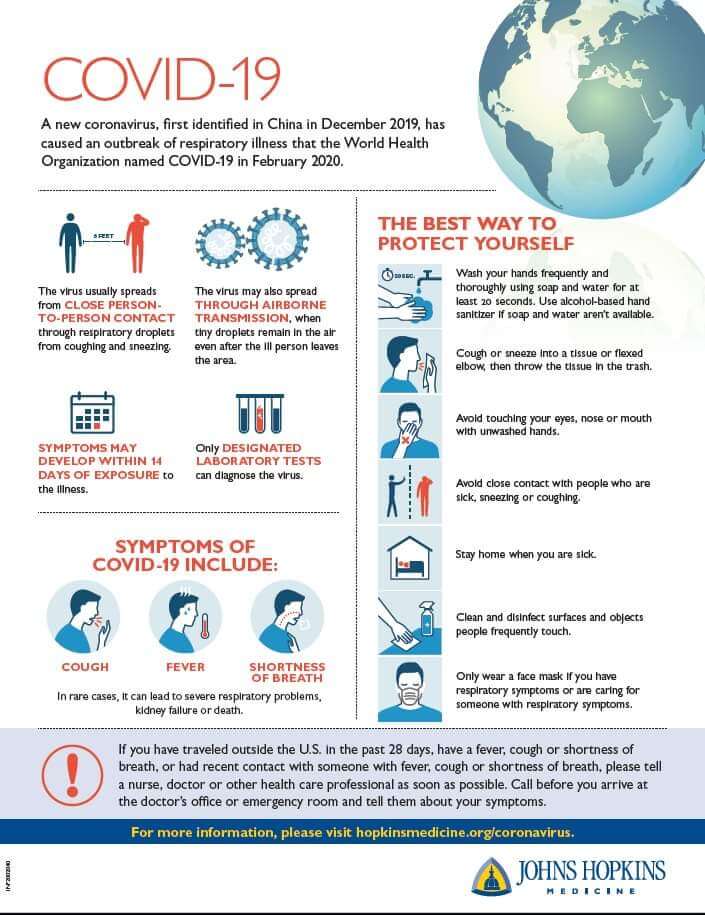 Attendance Work is concerned about the health and economic impact of the coronavirus disease 2019 (COVID-19), on the attendance, health and well-being of students and families, particularly those living in low-income communities.We also want to express our appreciation and concern for teachers, school staff, administrators and community partners who support students every day. A special word for educators: we encourage self-care, especially during this time.
To support access to information about how best to respond to coronavirus disease, we are maintaining this page with links to resources published by the Centers for Disease Control and Prevention, Johns Hopkins University, American Federation of Teachers and other reputable sources. We also advise consulting your state education and public health agencies as well as your school district and local public health department for local information. We've included links to state education agency and school district pages on coronavirus below.
Important note about our materials:
Attendance Works advises suspending use of our, When is Sick Too Sick for School? handout while the United States is grappling with coronavirus disease.
In addition, following guidelines from the CDC, Attendance Works advises against perfect attendance awards or other approaches to incentives that might encourage students to attend class even when they are ill, during this time while the country is dealing with coronavirus disease.
American Federation of Teachers
The AFT has a webpage with resources on the coronavirus for teachers, administrators and health professionals in elementary, secondary and higher education institutions, including fact sheets and infographics.
The Centers for Disease Control and Prevention
CDC has developed interim guidance and resources for K-12 schools and childcare programs to help plan, prepare and respond to coronavirus disease 2019. This guidance includes a section on monitoring and planning for absenteeism.
CDC has developed Considerations for School Closure.
Find further information and updates from the CDC here.
U.S. Department of Education
The Department of Education has created, Impact of COVID-19 on Assessments and Accountability under the Elementary and Secondary Education Act.
Supplemental Fact Sheet: Addressing the Risk of COVID-19 in Preschool, Elementary and Secondary Schools While Serving Children with Disabilities
Questions and Answers on Providing Services to Children with Disabilities During the Coronavirus Disease 2019 Outbreak (March 2020)
Ed Trust
Ed Trust is collecting resources and information to ensure that equity is at the forefront of plans and responses to the coronavirus.
Education Week
Special coverage features in-depth reporting and information about the impact coronavirus is having on schools and expert advice and guidance on how administrators, principals, and teachers can respond. Find a video that explains 6 steps school leaders need to take if the virus emerges in your community, and an interactive map showing which schools and districts have closed and/or re-opened.
Inside SEL
Inside SEL (Social Emotional Learning) has created a list of resources, blog posts and guides for Parents, Educators & School Communities Related to COVID-19.
Johns Hopkins University & Medicine
The Johns Hopkins Coronavirus Resource Center offers resources for the public, health provider and policymakers. The resources explaining how the virus is transmitted and tips for staying healthy, a webcast. A COVID-19 interactive map tracts cases of the virus around the world.
NAACP
With guidance from its Emergency Management Task Force, the NAACP Environment and Climate Justice program developed, Ten Equity Implications of the Coronavirus Outbreak in the U.S.
State education agency web pages about coronavirus.
California
The California Department of Education, in collaboration with the California Department of Public Health, issued School Guidance on Novel Coronavirus or COVID-19.
Colorado
The Colorado Department of Education issued the COVID-19 Resources for Schools
Connecticut
Find up-to-date information on this School Resources website page.
The state Department of Education issued the Planning Tool in the Event Novel Coronavirus (COVID-19) Impacts Connecticut Public Schools
Professional Support Series for Families (recorded webinars)
Florida
The Florida Department of Education issued Coronavirus (COVID-19) EM-Response
Georgia
The Georgia Department of Eduction issued COVID-19 (Coronavirus) and Schools
The Georgia Department of Early Care and Learning (DECAL) issued Resources to Support Home Learning
Indiana
The Indiana Department of Education issued COVID-19 Resources for Indiana Schools

Memo on Indiana's 20 day waiver: Instructional Day Waiver Requests and COVID-19 Pandemic
Kentucky
The Kentucky Department of Education issued Coronavirus (COVID-19) Information
Non-Regulatory Guidance Regarding the Implementation of the Non-Traditional Instruction Program (NTI) for Students with Individual Education Programs (IEPs) During Novel Coronavirus Pandemic
The Kentucky Teacher (KDOE) issued USDA grants waiver to allow Kentucky schools to serve students off-site meals

Maine
The Maine Department of Education issued Coronavirus (COVID-19) Resources for Schools

Minnesota
The Minnesota Department of Education issued COVID-19 Updates
Missouri
The Missouri Department of Elementary & Secondary Education issued Coronavirus (COVID-19) Information
Nebraska
The Nebraska Department of Education issued Coronavirus Resources for Schools:
Public Health Resources for Districts, Schools, Students, and Families
Ohio
The Ohio Department of Education created a website page, Coronavirus (COVID-19) Information for Ohio's Schools and Districts, and How to Support Your Child's Health and Well-Being During Ohio's Ordered School-Building Closure.
Oregon
The Oregon Department of Education issued COVID-19 Resources
Washington
The Washington Office of Superintendent of Public Instruction issued Novel Coronavirus (COVID-19) Guidance & Resources

School district web pages about coronavirus.
Detroit Public Schools Community District
DPSCD website page offers information for families, parents, students and staff. Resources include Grab-and-Go breakfast and lunch, academic packets and online learning and letters to families.
News articles about coronavirus and chronic absenteeism
Present and accounted for? Closures create attendance challenges
Education Dive, March 19, 2020
Maintaining Ties When School Closes Is Critical to Preventing Dropouts
EdWeek, March 17, 2020
Absenteeism Driven by Virus Could Trip Up States on ESSA
EdWeek, March 12, 2020
Do you have a resource to share? Email Catherine Cooney (catherine@attendanceworks.org).