Attendance Works is excited to be part of a new initiative in the San Francisco Bay area focused on improving early literacy by ensuring children have access to books, engage in summer learning and attend school regularly.
The 50 Fund — the legacy fund of the San Francisco Bay Area Super Bowl 50 Host Committee — Friday announced the effort which also involves Bay Area Campaign for Grade-Level Reading communities, national summer learning campaigns and local reading organizations
"The Re(a)d Zone," a 14-month early literacy initiative, will reach more than 50,000 low-income Bay Area children through high-quality literacy programs beginning this summer and continuing beyond Super Bowl 50 to summer 2016.
"The Re(a)d Zone has the potential to provide a more hopeful future for Bay Area's struggling and striving young readers," says Ralph Smith, managing director for the GLR Campaign. "The 50 Fund's early literacy initiative is a bold step forward and already is on its way to becoming a national model."
The initiative also will benefit from a $250,000 investment from Tuck's R.U.S.H for Literacy, the philanthropic initiative of Oakland Raiders defensive lineman Justin Tuck and his wife, Lauran. The grant will provide Bay Area programs serving low-income children with new books from First Book , Imagination Library and Jumpstart's Read for the Record®  campaign, plus provide a match for students to access the personalized learning environment of myOn with the world's largest interactive digital library.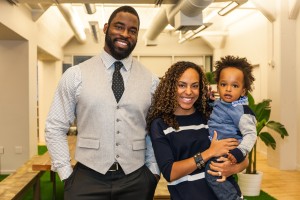 "You don't get this chance at this kind of Super Bowl platform often," said Justin Tuck. "It's a huge event, especially here with two NFL teams and Silicon Valley close by….How many countries are going to be watching? This is a chance for not only us to have an impact, but to make this one of the biggest philanthropy-driven events, not just Super Bowls."
The Re(a)d Zone will reach all nine counties in the Bay Area plus Sacramento, Monterey and Santa Cruz, a region that includes many GLR communities that have been named Campaign Pacesetters.  The participating GLR communities include Oakland, Richmond, Sacramento, Salinas, San Francisco, San Jose, San Mateo County and Santa Cruz County. Partners in the initiative will work to raise public awareness on third-grade reading, taking advantage of national literacy events like National Summer Learning Day (June) Attendance Awareness Month (September), Read Aloud 15 MINUTES and Jumpstart's Read for the Record® (October), and Family Literacy Month(November) to mobilize supporters.
"We want to use the megaphone of Super Bowl 50 to make the case to Bay Area residents that early literacy is an issue where everyone can get involved," says Kamba Tshionyi, Chair of the 50 Fund. "With our partners, we are confident this effort will change much more than just summers; it will change lives."
For more information, visit superbowl50.ba/read