Pathways to Engagement: A Toolkit for Covid-19 Recovery Through Attendance
Introduction
The coronavirus pandemic has resulted in huge losses in school-based learning opportunities, especially for communities hit hardest by the pandemic. Early data shows that chronic absence (missing 10% or more of school) is likely to have dramatically increased, potentially doubling in size from one out of six to one out of three students. Black, Latino and Native American students, students living in poverty, students with disabilities and English language learners have been especially affected.
Most districts also experienced significant declines in enrollment. While this occurred across all grades, drops were greatest among our youngest learners with some families delaying participation in kindergarten or preschool given the challenges of the pandemic.
As schools and communities develop and implement their plans for addressing the academic and social impact from disrupted learning, putting in place meaningful ways to engage students and their families is critical to addressing the significant absenteeism, enrollment declines and educational inequities exacerbated by the pandemic. Data on chronic absence and lack of participation in school are clear indicators of where to invest outreach and support. Monitoring attendance offers crucial real-time information about whether students are responding to engagement strategies and are on the path to learning.
What is the connection between attendance, chronic absence and engagement?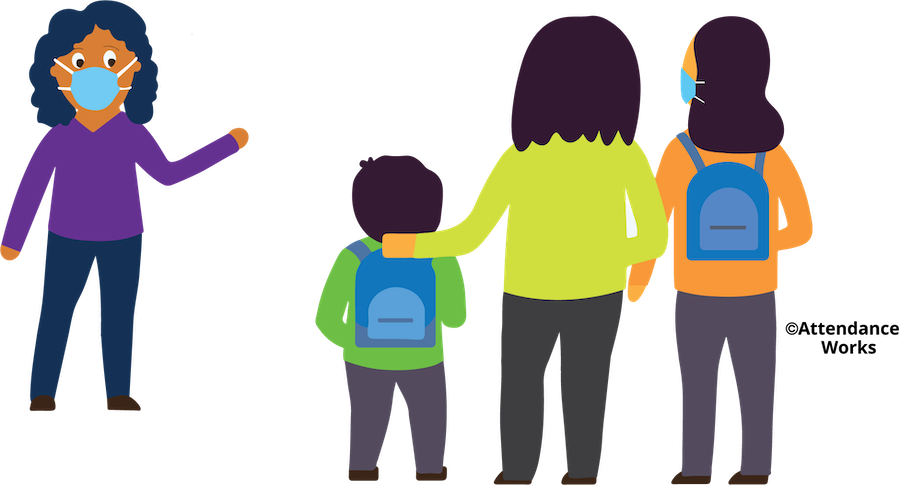 Attendance indicates that students (and their families) are motivated to show up and have the opportunity to be engaged by the learning activities that are taking place. If a student misses a class, then it is a sign of disengagement, regardless of whether the student couldn't attend due to a barrier or a matter of personal choice. When a student misses so many days they are chronically absent, (10% or more days), it means the lack of engagement in learning is an ongoing problem that needs to be addressed. To learn more about the connection between attendance and student engagement in learning, read this blog post by Check & Connect.
This Toolkit
The alarming attendance challenge created by Covid-19 means that districts, schools and their partners will need to take a strategic, transformative and long-term approach to engaging students and families. This requires a team approach. It involves moving beyond individual student case management to taking actions at scale that broadly offer support or pathways to engagement to groups of students. To meaningfully engage students and families, actions should be tailored to recognize the strengths and specific challenges of high priority student groups who experience significant levels of chronic absence.
It requires nurturing feelings of belonging to school in the spring for current and prospective students, building bridges to school in the summer, and creating a welcoming, restorative community at school in the fall. Ideally the activities begin in spring; however, it is never too late to begin.
This toolkit offers a framework, tools and resources for how to forge pathways to engagement, especially for those who have lost out on significant instructional opportunities during the pandemic. The approach assumes engagement and attendance should be supported in all modes of instruction, since a significant number of students may still be participating in hybrid or distance learning in the fall.
Keep in mind that federal Covid-19 relief funds can be used to support these kinds of activities. For more information on how to use federal dollars for attendance and engagement activities, read this blog.
Once you have worked through our recommended steps and chosen strategies and resources that work for your school community, incorporate them into your larger Covid-19 recovery plan. Note: Attendance Works new resources that appear as google docs in this toolkit may change over time.
Recommended Steps
This guide and its resources are organized according to the following four steps. Click on one of the strategies below to learn more.
Production of Pathways to Engagement was made possible by the generous support of Kaiser Permanente, Heising-Simons Foundation and our individual donors.