Early Matters: Toolkit Introduction
Why Address Attendance During Kindergarten Transition?
A critical, but often overlooked element of supporting a smooth transition to kindergarten is helping families overcome challenges to getting to preschool or school and nurturing a habit of consistent on-time attendance. Chronic absence, defined as missing 10 percent or more of school or preschool for any reason - including excused and unexcused absences and suspensions, is typically higher in kindergarten than in any other elementary grade. An estimated one out of 10 students are chronically absent in kindergarten.
Research shows that students who miss 10 percent or more of the school year (just 2 days each month) in the very early years are at risk of falling behind in reading and math by third grade. Vulnerable student populations, such as those with disabilities, come from communities with a history of negative experiences with educational institutions or are struggling with poverty, experience higher levels of chronic absence than their peers starting in kindergarten and preschool. See our report Mapping the Early Attendance Gap.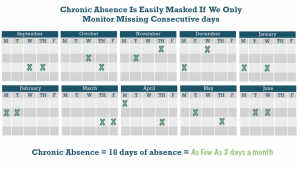 At the same time, research done in Chicago shows that children who develop a solid habit of attendance while participating in high quality preschools are less likely to be chronically absent in kindergarten and more likely to attain higher levels of literacy, numeracy and social development.
Public policies now require attention to reducing chronic absence. The Head Start Performance standards require programs to monitor and address the needs of students who miss 10 percent or more of the program. The federal Every Student Succeeds Act requires all states to include chronic absence in publicly available school report cards. And in 36 states and the District of Columbia, chronic absence is a school accountability metric typically starting in kindergarten.
Explore Early Matters: Integrating Attendance Into Kindergarten Transition Toolkit
Site Level Practices

Schools, preschool and districts can integrate attendance into these five site level practices that support the transition to kindergarten

District and Community Supports

Whether or not preschools and schools integrate attendance into the site level practices is heavily influenced by whether districts and other key community partners work together to put in place systems to support adoption of good practice at scale. These supports create a foundation for infusing attendance into kindergarten transition efforts.