Early Matters: District & Community Supports
Provide Joint Professional Development on Chronic Absence
Too often administrators and educators are not aware that chronic absence is a challenge facing their schools or preschools or aren't familiar with what are effective strategies for improving attendance. Efforts to reduce chronic absence require schools and preschools to adopt a comprehensive, tiered approach. This begins with positive engagement, moves to problem solving with families when challenges arise, and reaching out to community resources as needed. We've found that a three-tiered system of intervention can make addressing chronic absence more manageable. See more about our three-tiered approach here.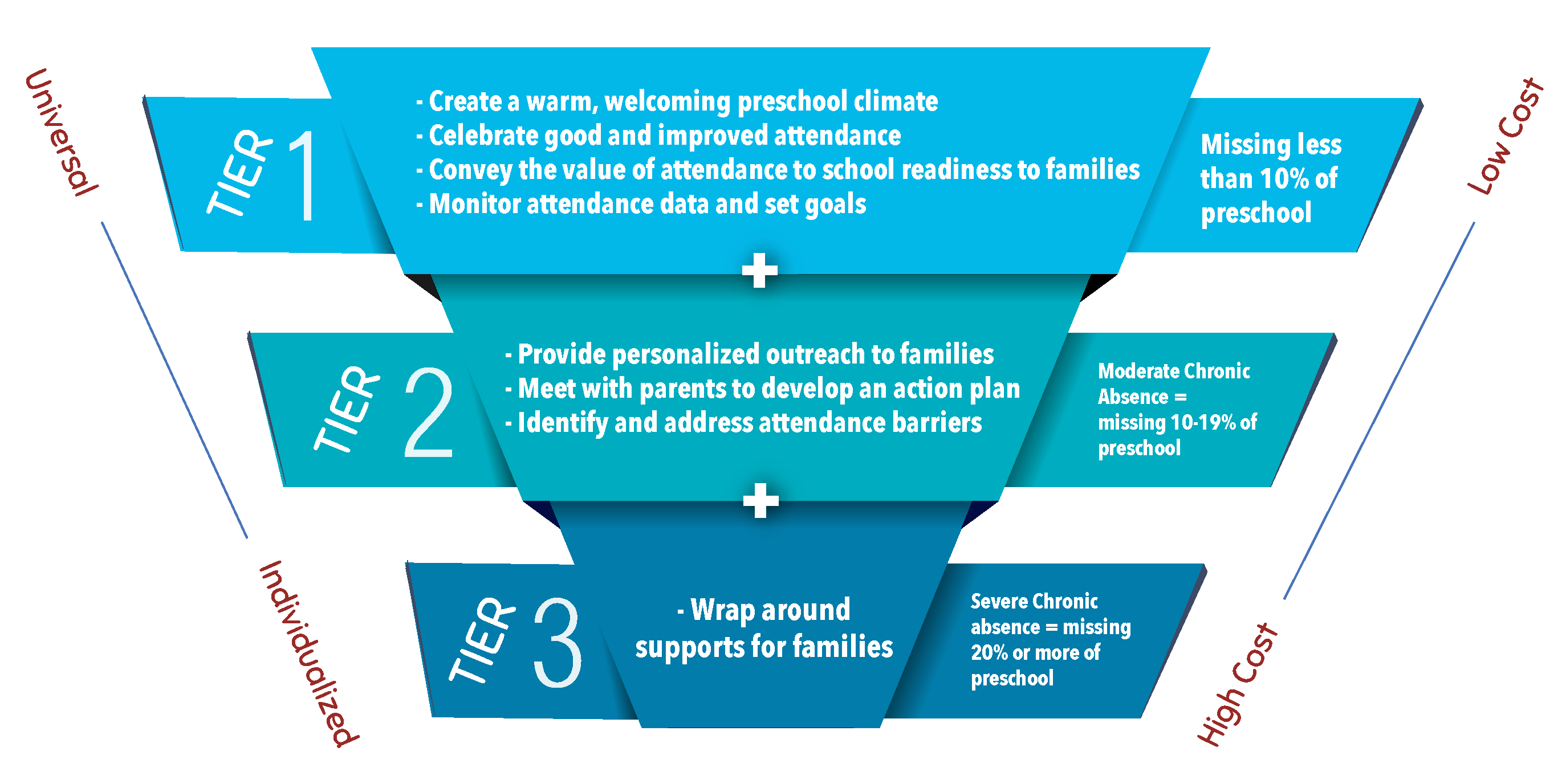 Successful implementation of an attendance program depends upon everyone in a school, not just attendance clerks and social workers, recognizing that they play a role in improving attendance. Effectively reducing chronic absence often requires that everyone shift their thinking, which takes time to absorb and implement.
All of the concepts and ideas below can be integrated into existing professional development, or used to design professional development opportunities to equip educators to address chronic early absences.
Especially important key concepts include:
Monitor Chronic Absence Data, Not Just Average Daily Attendance or Truancy
Until recently most educational institutions only monitored average daily attendance (how many students typically show up every day in a school or classroom) and truancy (unexcused absences). Both figures can easily mask how many and which individual children are missing so much preschool or school for any reason that they are academically at risk. See Chronic Elementary Absenteeism: A Problem Hidden in Plain Sight
Emphasize Positive Reinforcement and Engagement, Not Punitive Action or Blame
Social science shows that change is more readily achieved through positive reinforcement for desired behaviors rather than punishment. Attendance can be improved, for example, through the use of recognitions that recognize students who show up on time, every day on a weekly basis. At the same time, chronic absence is often a sign that children and their families are facing a challenge that keeps them from getting to class. Chronic absence data should be used to activate relationship building and problem solving with families to identify and address impediments to consistent on-time attendance. Read our blog, Reducing Chronic Absence Requires Problem Solving and Support, Not Blame and Punishment.
Ensure Prevention and Early Intervention Rather Than Remediation
The value of chronic absence data is it serves as an early warning system. Using data to notice when children miss 10 percent or more of school (just two days in the first month of school and four days by the end of the second month of school) offers a chance to identify and address attendance challenges before absences have added up to too much missed time in the learning environment. In this case, the idea is to monitor absences of all types because they all represent lost learning time in the classroom. Once students and their families have been identified as at-risk due to poor attendance, the preschool, school or community partners can then use their knowledge of the situation to determine whether and how much action and outreach is needed to support the family. Taking this approach ensures children and families do not fall through the cracks. Watch Module 1 of our Teaching Attendance Modules.
Take a Team - Not Just Individual - Approach to Action
A tiered approach to improving chronic absence is much more possible when it is supported by a team that monitors data, unpacks causes of chronic absence, develops a school or preschool wide approach and ensures individual students or families who need support receive them. Such site-level teams might also require the support of a district or community team that can build capacity and allocate resources where they are needed most. Taking a team approach helps to ensure that the work benefits from the insights and resources available from a variety of key players including administrators, teachers, social workers, health providers, and disability-specific community services providers, as well as community partners. Find resources for operating teams in elementary settings and resources supporting preschool teams.
All of these concepts can be integrated into existing professional development. Ideally elementary school and preschool educators would have a chance to learn about chronic absence together. Working together to improve attendance offers a clear, measurable and mutually beneficial arena for cooperation. Professional development could take a variety of forms, from workshops to a more on-going community of practice. A variety of entities such as local education agencies, Head Start grantees, child care agencies, institutions of higher education and even local funders (such as foundations or United Ways) can help to make such learning opportunities available.
Click here to read about how others have developed and shared meaningful reports on chronic absence based upon attendance data.
Leverage Attendance Works Toolkits. In addition to this toolkit, consider drawing upon the resources and guidance in, Early and Often: Showing Up in Preschool Matters, and Bringing Attendance Home for use within current professional development programs. Each toolkit is filled with ideas, downloadable tools and inspiring examples aimed at helping educators or community partners working with young children and their families.
Use the Attendance Works Teaching Attendance Curriculum to equip your staff. Because the curriculum is comprised of three short modules that can be taken at the learner's convenience and repeated as many times as needed, it makes it easy for new staff to learn basic concepts about chronic absence. It is also a great tool for chronic absence veterans to brush up on effective everyday strategies to work with families and encourage good attendance.
Establish A Peer Learning Network (PLN) Attendance Works has found that creating a community of practice is an especially effective approach to developing professional knowledge and supporting measurable reductions in chronic absence. A PLN is comprised of teams with representatives from multiple sites. Participants meet three to four times a year, with periodic coaching calls between sessions. Participants review and discuss how to use data constructively, explore a new concept and related strategies and materials, and are charged with applying the new ideas in their own setting in each session. The process expands the knowledge and collaboration at each site and moves increasingly from facilitator-guided to peer-guided sessions as communities strengthen their local strategic approach to identifying problems and developing solutions for chronic absence.
Inspiring Examples
Click here to read about how others have developed and shared meaningful reports on chronic absence based upon attendance data.
Explore Early Matters: Integrating Attendance Into Kindergarten Transition Toolkit
Site Level Practices

Schools, preschool and districts can integrate attendance into these five site level practices that support the transition to kindergarten

District and Community Supports

Whether or not preschools and schools integrate attendance into the site level practices is heavily influenced by whether districts and other key community partners work together to put in place systems to support adoption of good practice at scale. These supports create a foundation for infusing attendance into kindergarten transition efforts.