Protecting Student Privacy When Sharing Data
Data helps us identify chronically absent students and those on track to become chronically absent. It can also help to understand each student's needs as a step towards identifying additional resources that can improve student achievement. With an understanding of existing privacy laws, including the Family Educational Rights and Privacy Act (FERPA), you can begin to build a data plan that meets each individual student's privacy needs.
The US Department of Education has developed the Data Sharing Toolkit For Communities: How To Leverage Community Relationships While Protecting Student Privacy. This toolkit is designed to simplify the complex concepts of FERPA. It may be used both as a comprehensive guide and a collection of one-page resources.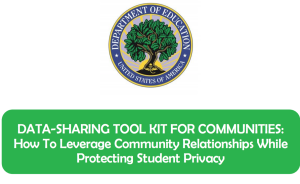 The tool kit includes information and resources in three areas:
Understanding the importance of data collection and sharing

Understanding how to best protect student privacy when collectively using PII from students' education records that is protected by FERPA (including the best practices for obtaining written consent, or, where applicable, complying with FERPA's exceptions to non-consensual disclosure of data)

Understanding how to manage shared data using integrated data systems.
Download the Data Sharing Toolkit for Communities