Classroom Attendance Calculator
Monitoring chronic absence data is essential to ensuring educators are equipped to support their students. Yet it's easy during the course of a busy school year to lose track of how absences are adding up for particular students.
Attendance Works has developed a Classroom Attendance Calculator for educators to help determine whether a student's absences place him or her in the satisfactory, at-risk or chronic absence categories.
If your district does not yet provide chronic absence reports, you can use this self-calculating spreadsheet to help identify the students who have so many absences they require some form of early intervention. Remember to look at excused as well as unexcused absences, and to count suspensions as time missed from school.
The calculator includes a step-by-step guide to fill in the spreadsheet, and a worksheet that allows educators to assess the steps they are taking now and what more they can do to reduce chronic absence.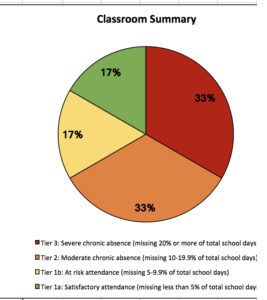 Download the Classroom Attendance Calculator, the Guide and Worksheet.