Guide to Using the Attendance Playbook: Smart Strategies for Reducing Chronic Absenteeism in the Covid Era
The Guide to Using the Attendance Playbook, by Attendance Works, is a companion to the updated Attendance Playbook (Covid edition).
The Guide to Using the Attendance Playbook will assist educators and their teams in thinking through key questions in selecting, prioritizing, and implementing strategies included in the playbook.
Today many students and families face even greater challenges to education and may need a higher level of support. As protests over systemic racism demonstrate, our public schools have not adequately addressed the systemic barriers that limit access and equitable opportunities. It's critical that approaches be adapted to what we know is working.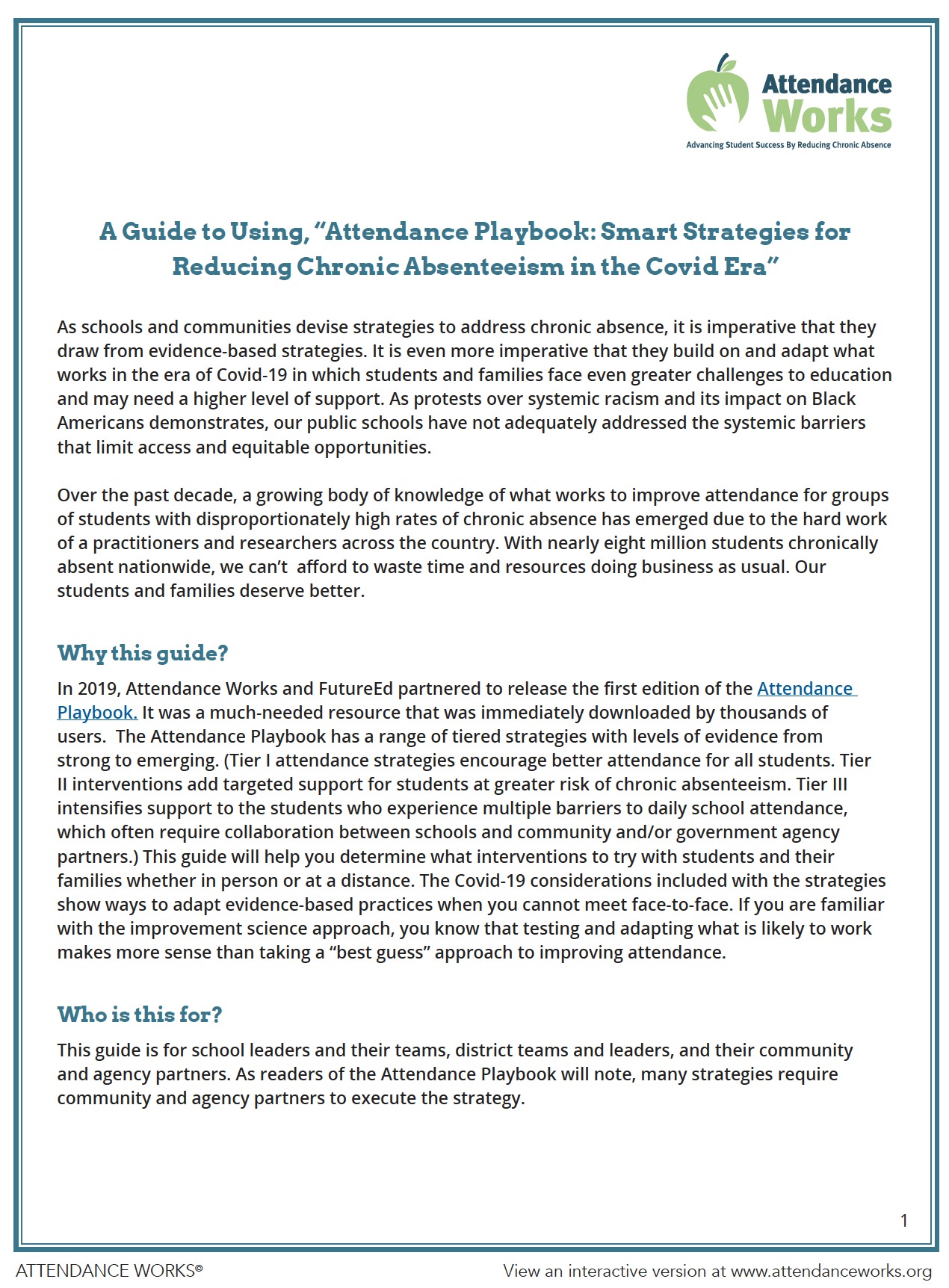 The guide helps educators target supports to groups of students who need additional help to overcome barriers to attendance and participation. It offers general ideas and tools, as well as charts and checklists, to determine what interventions to try with students and their families. The seven steps will guide the development of a plan for decisions, implementation and reassessment once your strategies are in place.
The updated Attendance Playbook: Smart Strategies for Reducing Chronic Absence in the Covid Era, was developed by FutureEd in partnership with by Attendance Works. The Attendance Playbook has been expanded to include 26 strategies to address student chronic absence, whether it be mild, moderate or severe.
The playbook divides strategies into the three tiers of intervention. Each description identifies the problem the intervention solves and highlights schools or school districts that have used the strategy successfully. The Covid-19 considerations, included with the strategies, show ways to adapt evidence-based practices when it is not possible to meet face-to-face.
Download the Implementation Guide
Attendance Works would like to express our deep appreciation to the foundations and individual donors who make it possible to produce and make available resources like this guide available at no cost. If you appreciate these materials, please consider donating to Attendance Works here.