We are excited to join with our national partners to launch Attendance Awareness Campaign 2018! America's Promise Alliance, Attendance Works, the Campaign for Grade-Level Reading, Everyone Graduates Center, Get Schooled, Healthy Schools Campaign, the Institute for Educational Leadership, Mentor, Points of Light and United Way Worldwide invite you to join us for the sixth year of the Attendance Awareness Campaign, which designates September as Attendance Awareness Month.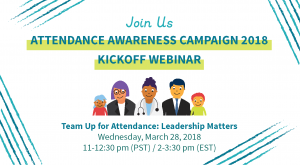 This year we encourage everyone to remember that community-wide engagement matters for attendance. Under this year's theme, Team Up for Attendance! we are emphasizing the role everyone, from educators to health professionals, to local agency and business partners can play in creating a welcoming and engaging school environment that motivates students and families to come to school every day.
Our four-part webinar series will focus on key partners and the important role they can play in addressing chronic absence. During our first webinar on March 28, Team Up for Attendance: Leadership Matters, we officially launch the campaign and pass along how to get involved!
Hear how leaders at the state and district levels are uniquely positioned to energize attendance campaigns that result in improvements in school attendance. Webinar speakers are:
Ayeola Fortune, United Way Worldwide
Dr. Carey Wright, State Superintendent of Education, Mississippi Department of Education

Charlene Russell-Tucker, Chief Operating Officer, Connecticut State Department of Education
Janet Schulze, Superintendent, Pittsburg, CA
Rev. Larry Simmons, Brightmoor Alliance, Detroit, MI
Hedy Chang and Cecelia Leong, Attendance Works
Find the webinar recording and PowerPoint here.
During the webinar, we also unveil the latest version of the Count Us In! toolkit, the essential resource to help you plan your Attendance Awareness Campaign involvement and enlist others to collaborate with you. The 2018 version contains new messaging and resources for making a difference in your community for Attendance Awareness Month.
The start of each school year presents an important opportunity to lift up an increasingly urgent issue: too many children missing too many days of school. Literally tens of thousands of children, even those in the early grades, are chronically absent — missing nearly a month or more of school every year.
Here's how you can join the Attendance Awareness Campaign 2018!