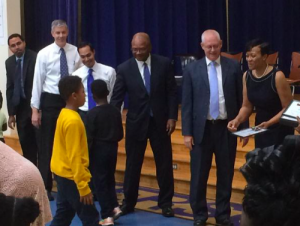 The federal government today took up the fight against chronic absence with a cross-sector initiative aimed at helping states, school districts and communities address the root causes of absenteeism. The Every Student, Every Day initiative will harness support from the White House and the U.S. Departments of Education, Health and Human Services, Housing and Urban Development and Justice.
"It's common-sense – students have to be in their classrooms to learn, yet too many of our children, and most often our most vulnerable children, are missing almost a month or more of school every year," said Education Secretary Arne Duncan in a statement, who announced the initiative at a Washington, D.C. elementary school after an awards ceremony honoring students with improved attendance.
The initiative, part of President Obama's My Brother's Keeper Initiative, will feature several components:
A public awareness campaign supported by a public-private partnership
A toolkit to support coordinated community action
Technical assistance and training for districts including an e-summit in November (see details below)
Mentoring models developed through a public-private partnership
Release in Spring 2016 of chronic absence rates for most school districts, data collected for the first time by the Education Department
An in-person summit in Spring 2016 to highlight best practices.
A "Dear Colleague" letter from four federal cabinet secretaries to chief state school officers.
As part of the initiative, the Department of Education, Attendance Works, Everybody Graduates Center and United Way Worldwide will be offering an e-summit, Every Student, Every Day: A Virtual Summit on Addressing and Eliminating Chronic Absence, on Nov. 12 from 2-3:15 p.m. ET
This online summit will feature two of the nation's premiere experts on absenteeism – Johns Hopkins researcher Bob Balfanz and Attendance Works DirectorHedy Chang – who will outline key steps that states, districts and communities can take to improve student achievement by monitoring and reducing chronic absence.