Nine school districts and School Attendance Review Boards in California were recognized for their successful and innovative programs to bring down chronic absenteeism rates in the state. The SARBs were recognized during a ceremony at the California Association of Supervisors of Child Welfare and Attendance (CASCWA) conference in April, as models that can be copied by other SARBs in the state.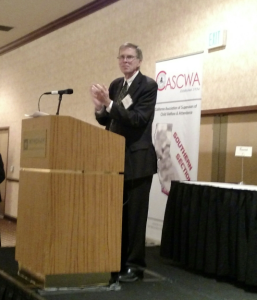 David Kopperud of California's Department of Education presented accolades from State Superintendent of Public Instruction Tom Torlakson, who announced the nine model SARBs before the conference. The SARB program promotes collaborative efforts in the most essential component in academic achievement—keeping students in school so they have the opportunity to learn, Torlakson said. "Schools cannot succeed alone. This is not just about what schools can do, but what communities must do by working together on SARB teams," Torlakson added.
SARBs were introduced in California in 1974 as a part of a system of interventions intended to make maximum use of school district and community resources to reengage students, improve graduation rates, and keep minor children out of the justice system. Click here to find information more information about the SARB program.
Each of the nine SARBS celebrated during the CASCWA conference provides a great example of creative and responsive leadership. In southern California, SARB 16 has a unique approach: Four different districts have joined together in one SARB made up of Redondo Beach Unified, El Segundo Unified, Hermosa Beach City, and Manhattan Beach Unified.
SARB 16, chaired by Susannah Hall, is a rich collaboration among diverse representatives within the four districts. An administrative team considers the challenges to attendance that a particular family is experiencing, then selects individuals who can provide support in the areas that are keeping the students from attending school every day. "SARB 16 has resources to assist families with any type of problem you can imagine, all guided by experts dedicated to helping students thrive," said Jessica Howard with the CDE Foundation.
This year's CASCWA conference showcased smart models of intervention, such as multi-tiered systems of support to address chronic absence and childhood trauma. "Too often, we wait too long to prevent our most troubling social challenges. We hear all-too-familiar stories that are confirmed by recurring patterns in the data. One story is of a child who is chronically absent in early grades, falls behind by late elementary school, and struggles to ever catch up. We cannot wait until that story ends in dropout or, later, the courtroom or the emergency room," said Ben Chida, with California's Office of the Attorney General, Kamala D. Harris. "Our shared task—as educators, law enforcement, child welfare professionals, and many other partners—is to deploy positive interventions as early as possible and before irreparable harm is done," Chida added.
The workshops at the CASCWA conference helped to inspire collaboration among the many community and education partners who can promote good attendance. A workshop by the Riverside County Office of Education, for example, presented information on restorative practices, which are critical to cultivating healthier school communities and shutting down the school-to-prison pipeline. "These practices, along with the 'we never quit' attitude that defines CASCWA's 80-year history, make me hopeful for a system that responds to the needs of each child, as he or she attends class each day possible," Chida said.