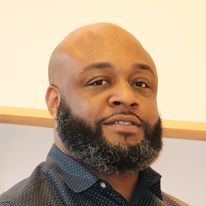 Larry C. Simmons is deeply committed to improving the health, wellness and economic vibrancy of Baltimore's neighborhoods. He has dedicated his career to the young people of Baltimore, and believes that the future of our community depends on the success of our children.
With 20-plus years of experience in directing youth and community development programs, community organizing, coordinating city-wide services and program initiatives, Larry has a constant and consistent presence in Baltimore.
As a West Baltimore native, Larry has devoted his professional life to serving communities across the city. He is a natural advocate, known for his ability to expose injustice while holding himself and others accountable to create alternative solutions. As a connector, Larry easily navigates through often siloed city initiatives, bridging gaps and bringing non-traditional stakeholders and leaders together into partnership. He is a valued and respected community leader who uses his influence and reach to advance community engagement and advocacy for those who need it most.
Larry is Director of Community Engagement of the Nobody Asked Me Campaign, a community research project, and Chairs the Parent and Community Advisory Board for Baltimore City Public Schools (BCPS). He is on several advisory boards, including New Song Academy (BCPS), Wide Angle Youth Media, B-CIITY, the Public Justice Center and the Baltimore City Children and Youth Fund.