California Attorney General Kamala Harris has released a new report showing that 7.3 percent of elementary students in California missed 10 percent of the school year in 2015-16. The report —which draws from a sample of almost 500,000 students from nearly 200 districts—also describes significant progress being made as districts take action to improve attendance.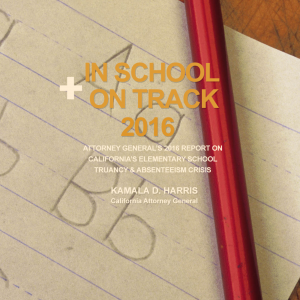 In School + On Track 2016 is California's fourth annual report on chronic absence, and pulls from data over the past four years beginning with the 2012-13 school year. The numbers paint a portrait of a state that still faces an attendance crisis, with an estimated 210,000 students in kindergarten though 5th grade missing almost one full month of school. Chronic absenteeism is most prevalent among African American, low-income, special education and highly mobile students such as homeless and foster youth.
The data also illustrate that early attendance patterns can affect a child's academic achievement. For example, 75 percent of students who were chronically absent in kindergarten and first grade failed to meet California's state standards in math and English language arts in the 3rd grade.
"Chronically absent children are far more likely to drop out of high school and enter the criminal justice system," Harris said. "This is a solvable problem: with better data, monitoring, and communication with parents, we can continue to make significant strides towards ensuring students are in school and on track to meet their full potential."
In School + on Track cites a number of steps taken in Calfornia to improve chronic absenteeism, such as:
Ninety-nine percent of districts surveyed have, or plan to, put in place policies and programs designed to improve attendance this year.
Forty-seven percent of districts (up from 18 percent in 2014) included chronic absence data in their Local Control Accountability Plans, which outline how districts will improve student outcomes.
Eighty-five percent (up from 12 percent in the 2013) of districts reported that they track attendance over time. This step allows teachers and administrators to find the students who are missing too many days, and to craft interventions to help overcome barriers to being in school every day.
Discipline policies are changing: 34 percent of districts surveyed said they have changed their attendance policies to reduce suspensions.
School suspensions also increased the state's attendance crisis, the report notes. Suspensions have an oversized impact on boys, low-income students and children with special needs. The report also finds that while African America students make up just 5 percent of the elementary school population, they represent 22 percent of all suspensions.
The report includes a description of recent changes in collecting and tracking student attendance in California policy as well as new chronic absence reporting requirements in the Every Student Succeeds Act (ESSA).
New Policy Brief for California
Attendance Works has developed a policy brief to help district decision-makers in California think about how they might collect and use chronic absence data. The brief describes how districts can use their Student Information Systems (SIS) to support this work. It lays out steps districts can take to maximize the opportunities provided by the CALPADS new attendance data collection for 2016-17 school year, and the new reporting requirements in the ESSA.
Download the full Brief: Making Data Work in California: Leveraging Your District's Data and Student Information System (SIS) to Monitor and Address Chronic Absence
Data on missed days and information on how to help families interpret the data can be included on student report cards. Click here to find sample report cards with chronic absence data.
Click here to find In School + on Track 2016, and the reports from 2015, 2014 and 2013.