We're delighted to announce that more than 200 superintendents from school districts across the country have joined our Call to Action, committing to emphasize the importance of school attendance this fall and drive with data to reduce chronic absenteeism.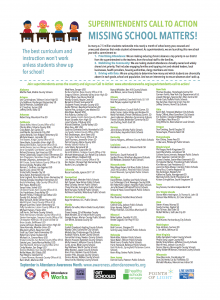 The nationwide Call to Action draws leaders from some of the nation's largest districts – New York City, Los Angeles and Miami-Dade County – as well as superintendents from smaller places, such as Glasgow, Montana with 850 students or Alpine County, California, with 80. The full list of superintendents is featured in today's edition of Education Week.
"In New York City, we know that regular attendance is a critical part of student success," said Chancellor Carmen Farina. "We believe in investing in the whole child and bringing parents in as partners in their children's education—that's why our Community Schools are supporting students and families and reducing barriers for kids to reduce chronic absenteeism."
Superintendent of Miami-Dade County Public Schools Alberto M. Carvalho recently announced an initiative to improve attendance across the county. "We know that getting students to school every day is imperative, and it takes the collective efforts of the entire school community," Carvalho said. "Developing good attendance habits, as early as pre-K, is fundamental to students' school and eventual career success."
The Call to Action for superintendents is sponsored by seven national organizations that led the Attendance Awareness Month campaign in September: America's Promise Alliance, Attendance Works, The Campaign for Grade-Level Reading, Get Schooled, Healthy Schools Campaign, Points of Light and United Way Worldwide.
"Quality teaching in good schools won't matter to students who are absent," said Ralph Smith, GLR's managing director. "This is the message these Superintendents are sending by signing on to the Call to Action.  The rest of us should heed the call and do what we can to end chronic absence in the early grades by helping parents to solve the problems that keep their children out of the classroom."
By joining the Call to Action, superintendents have access to tools, expert advice and peer learning opportunities about improving attendance. We'll be sharing some news  next week about what superintendents can expect.
The Call to Action had 207 names when Education Week went to press last Friday, and three more superintendents have joined since then, representing Enid, Oklahoma; Henry County, Virginia; and Bellevue, Washington. Any superintendents interested in joining can sign up on the Attendance Works website.