A new report from Attendance Works and Healthy Schools Campaign shows how disparities in school attendance rates starting as early as preschool and kindergarten are contributing to achievement gaps and high school dropout rates across the country.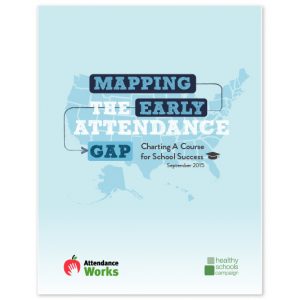 Mapping the Early Attendance Gap: Mapping a Course for School Success also highlights connection between health and attendance and the power of states to tackle absenteeism by tapping key champions, leveraging data, and learning from places that have improved attendance despite challenging conditions.
It begins with the notion that as we work to close achievement gaps and reduce dropout rates, educators and policymakers often overlook another pernicious problem that is undermining success for our most vulnerable young students: the attendance gap. Across the country, an estimated 5 million to 7.5 million students are missing nearly a month of school and suffering academically for it.
The problem starts early: At least 10 percent of kindergartners and first graders miss that much school, absences that can stall their progress in reading and deny them an equal opportunity to learn. Chronic absence flares again in middle and high school, when it becomes an early warning sign that students will drop out. Children from low-income families and communities of color and those with disabilities are disproportionately affected.
This isn't simply a matter of truancy or skipping school. In fact, many of these absences, especially among our youngest students, are excused and tied directly to health factors: asthma and dental problems, learning disabilities, and mental health issues related to trauma and community violence.
In many cases, these attendance patterns go unnoticed because schools are counting how many students show up every day rather than looking at how many miss so much school that they are falling behind. While much of our nation's attendance policy focuses on finding and punishing students who miss school without an excuse, not enough attention is paid to preventing excused absences due to health concerns or other family and community issues.