Attendance Works News
December 23rd, 2014
A Paterson, New Jersey, elementary school recently got a welcome surprise when it crunched its attendance data: The number of chronically absent students — those absent 10 percent of the year (18 days) — dropped by 76 percent, from 152 to 36, in one year.
"We knew it went down but, wow, this was a tremendous improvement," says Sandra Diodonet, principal of School No. 5, which has 921 K-to-6 students, most from economically disadvantaged homes including many English-language learners (ELL).
It didn't happen by chance. In 2014, the school launched a vigorous chronic absenteeism initiative. And preexisting school improvement measures produced conditions ripe for success. School No. 5 quickly took more action soon after receiving results from the initiative's early data phase, which identified 152 chronically absent students from the previous school year,including 28 percent of kindergartners — double the national average.
"That was an eye-opener," says Diodonet, whose school is under state monitoring due to lagging achievement by ELL and special education students. "The connection between being absent and losing instructional time is huge. And some students we knew were from our at-risk population so you see that connection."
The school's chronic absenteeism initiative has benefited from school-wide efforts like these:
Support from the school district and a dynamic principal, enthusiastic teachers Tara Martin and Jaclyn Dorrman, and staff from New Jersey Community Development Corporation (NJCDC), the lead agency providing social services on site, who formed a strong attendance team.

A "Success Mentor" program matching school staff with 40 first- and second-grade students with a history of absences. Twelve special education teachers and instructional




aides volunteered to each mentor several students, checking in with them daily, rewarding those present and following up with families of absent students.

Training in strategies developed by Attendance Works, a GLR partner, and the Children's Aid Society National Center for Community Schools (NCCS), based in New York City.
"They have all the components," says Sarah Jonas of NCCS, who trained School No. 5 andothers in strategies including Success Mentors, which was pioneered successfully in New York City's public schools. "There is principal leadership — not just buy-in but participation — and a very strong partnership between a school and community-based organization. The teachers really ownthe role of mentoring chronically absent students. And everyone at the school works hard to create and maintain a positive school climate. That's why you see these results."
The success mentors, in particular, "make kids feel missed when they're not there and connected to somebody who's their advocate," says Rosie Grant, executive director of the Paterson Education Fund, lead organization for Paterson Reads, the local grade-level reading campaign.
It also helped that School No. 5 is a full service community school — providing social services and health care on site. Staff members already were trained to look for issues affecting a student's school success, have community partners providing resources to address those issues and do parent outreach. "Parents are more involved because the services are here so they're coming to us in the building," says Nicole Lebron of NJCDC, School No. 5's Community School Director.
Also contributing to a conducive environment for the initiative are: Positive Behavior Support in Schools, a statewide effort to produce a positive social climate associated with better student attendance and performance; AmeriCorps volunteers who mentor older students; a statewide attendance push, with potential financial penalties; new attendance data being collected statewide about students, which is publicly available by district and school on a state website; a new statewide teacher evaluation system encouraging teachers to lead academic achievement efforts; and frequent recognition of staff who volunteer as success mentors.
This year, the initiative will provide more school-wide classroom-based efforts, recruit more success mentors, including classroom teachers, and offer team-building activities for existing mentors. "We want them to build up our youth to be successful students," says Diodonet.
For more information, contact Sandra Diodonet at 973-321-0050 orsdiodonet@paterson.k12.nj.us.
This piece originally ran as a Bright Spot Community on the Campaign for Grade-Level Reading website. The Brights Pots  showcase the work that  communities are doing to make progress on school readiness, school attendance and summer learning by 2016. 
Posted in Elementary, Research | Comments Off
December 18th, 2014
We've had a year flush with activity: More districts and states are calculating chronic absence. More practitioners joined our webinars and downloaded our tools. More researchers are documenting the corrosive effects of absenteeism and demonstrating solutions.
As we look toward 2015, Attendance Works has already decided on our New Year's resolutions:
Health: We plan to work with doctors, nurses and other health partners to address health concerns that contribute to so many absences.
Children of color: We plan to work with school districts and federal officials to unpack why young children from communities of color are too often missing more school than their peers and find out what can improve their attendance.
Preschool: We plan to expand materials that emphasize the importance of attendance even before kindergarten.
State action: We plan to work with burgeoning state networks to guide policy development and create peer-learning opportunities. In California, that means helping more districts meet state requirements to calculate and address chronic absence.
We hope you can be part of these efforts: Join our webinars, use our free tools to crunch your data or participate in Attendance Awareness Month. Above all share with us and with your peers what is working for you and what obstacles you face. 
We express a special thank you to our colleagues and friends who have included Attendance Works in their charitable contributions. If you haven't had a chance, you can donate now by 

 clicking here. Whatever the size of your gift, it will provide us with much needed support to advance our work.
Posted in Research | Comments Off
November 20th, 2014
Our 2014 Attendance Action Map showed that 325 schools and community organizations participated in Attendance Awareness Month this September. But how did those numbers break down? California was No. 1, with Alabama and Iowa claiming the second and third slots. Only five states didn't have any communities participating. Next year's goal = All 50 states!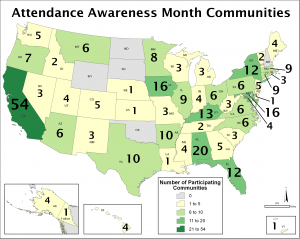 Posted in Research | Comments Off
« Older Entries