Attendance Works News
November 20th, 2014
Our 2014 Attendance Action Map showed that 325 schools and community organizations participated in Attendance Awareness Month this September. But how did those numbers break down? California was No. 1, with Alabama and Iowa claiming the second and third slots. Only five states didn't have any communities participating. Next year's goal = All 50 states!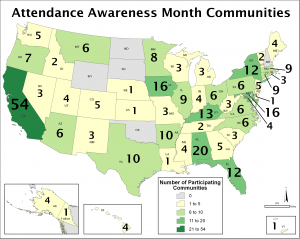 Posted in Research | Comments Off
November 18th, 2014
All high-poverty schools are not alike. Some manage to succeed despite a high number of students who qualify for free and reduced meals, while others struggle miserably. Some have decent attendance rates, while other see more than a third of their students missing a month of school every year.
A new report by The Center for New York City Affairs at The New School looks closely at the city's schools and documents the risk factors that plague struggling schools. A Better Picture of Poverty: What Chronic Absenteeism and Risk Load Reveal About NYC's Lowest-Income Elementary Schools also identifies improving attendance as a key strategy to turning around these schools.
The report, released at a panel discussion Nov. 6, found that more than 87,000 New York City children from kindergarten through third grade missed 10 percent or more of the school year in 2012-13. That number is down from 2008, when the New School released its first report on chronic absence. That report spurred then-Mayor Michael Bloomberg to launch an intensive pilot program in 100 schools to improve attendance. The rate of chronic absenteeism in elementary schools declined from 23 percent in 2009 to 19 percent 2013.
The report went beyond student data to identifiy 130 schools were more than a third of students were chronically absent for five straight years. These schools had a few things in common: Scores on standardized tests for reading and math were far below the city averages. And many of the students lived in deep poverty with high rates of homelessness, child abuse reports and male unemployment.
Chronic absenteeism, the report states, "is a much better index of poverty than the traditional measure of the number of children eligible for free lunch."
Researchers identified 18 "risk factors" that come hand in hand with chronic absenteeism. The higher the risk load. the higher the absenteeism rate tended to be.
They included factors in the school:
 Students eligible for free and reduce price meals
Students known to be in temporary housing
Students eligible for welfare benefits from the city Human Resources Administration
Special education students
Black or Hispanic students
Principal turnover
Teacher turnover
 Student turnover
Student suspensions
Safety score on the district's Learning Environment Survey
Engagement score on the Learning Environment Survey
Other risk factors related to the neighborhood:
Involvement with the city's Administration for Children's Services
Poverty rate according to the U.S. Census for the school's attendance area
Adult education levels
Professional employment
Male unemployment
Presence of public housing in a school's attendance area
Presence of a homeless shelter in a school's attendance area
Researchers noted the success that Bloomberg's initiative had on reducing chronic absence and urged the new mayor, Bill De Blasio to use this data as he designs his efforts to improve the city's schools.
"Mayor de Blasio made the effects of poverty in school a major campaign issue. In his administration's ongoing work, it is important to know which schools are facing the most virulent effects of poverty," says Kim Nauer, lead author of the report and education research director at the Center.
"Our work identifies those schools," she says. "We argue that risk load and chronic absenteeism should be an important consideration as the mayor launches expensive new programs, like his promised 100 new community schools, explicitly designed to help students overcome poverty-related educational issues."
For more information, contact Kim Nauer at 646-942-8414 or at nauerk@newschool.edu.
Posted in Research | Comments Off
November 17th, 2014
The winter holidays represent a challenge–and an opportunity–for educating parents about the importance of good attendance. As you know, absences often spike in the weeks before and after winter break, as families try to squeeze in a few more vacation days.
On our website, you can download and use free tools to help remind parents that the best gift they can give their children this year, and every year, is a good education and that begins with getting to school every day. Click the following links to download:
To receive additional messaging resources throughout the year, please sign up for our email list.
Posted in Research | Comments Off
« Older Entries