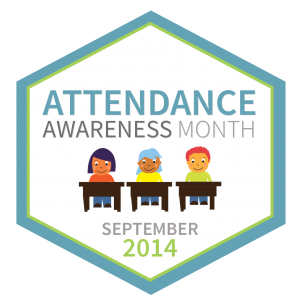 Join us again this September for Attendance Awareness Month! Celebrated for the first time in September 2013, Attendance Awareness Month is a nationwide event recognizing the connection between school attendance and academic achievement. The goal is to mobilize schools and communities not only to promote the value of good attendance but also to take concrete steps toward reducing chronic absence. More than 40 national organizations are working in partnership on the event.
See our updated Count Us In! Toolkit
Visit our new Attendance Awareness Month microsite to get started!
Sign up here for regular updates
In the meantime, you can:
Read our State Policy Brief– The Attendance Imperative: How States Can Advance Achievement by Reducing Chronic Absence. Click here to read the report.
    

Follow the Attendance Awareness Campaign on Facebook and @AttendanceWorks on Twitter. We'll be sharing updates from April through the month of September! Use the hashtag #schooleveryday.

Share your stories.  Let us know what you've been doing or plan to do. You can e-mail stories, photos and examples of your work to Lauren Gentile at: lauren@attendanceworks.org. We'll be posting information and materials on our Community Highlights page.
The Attendance Awareness Campaign is led by five convening partners: America's Promise Alliance, Attendance Works, the Campaign for Grade-Level Reading, Points of Light and United Way Worldwide and is supported by a growing list of other organizations.