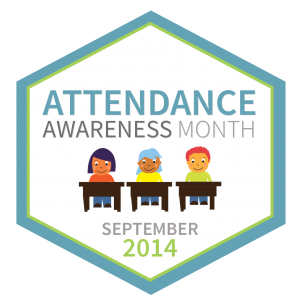 All our new materials are on the Attendance Awareness Month microsite. Visit today for the latest downloads!
Join us again this September for Attendance Awareness Month! Celebrated for the first time in September 2013, Attendance Awareness Month is a nationwide event recognizing the connection between school attendance and academic achievement. The goal is to mobilize schools and communities not only to promote the value of good attendance but also to take concrete steps toward reducing chronic absence. More than 40 national organizations are working in partnership on the event.
See our updated Count Us In! Toolkit
Visit our new Attendance Awareness Month microsite to get started!
Sign up here for regular updates
    

Follow the Attendance Awareness Campaign on Facebook and @AttendanceWorks on Twitter. We'll be sharing updates from April through the month of September! Use the hashtag #schooleveryday.

Share your stories.  Let us know what you've been doing or plan to do. You can e-mail stories, photos and examples of your work to Phyllis Jordan at Phyllis@attendanceworks.org
Show your support by downloading a badge and attaching it to your email signature, your Facebook posts, your organization's website… anywhere you want!
Tell people about how important it is for kids to attend school every day – talk about it,write about it, Tweet about it… you get the point! Use our Key Messages handout as well as this copy-and-pastable Attendance Awareness Month social media posts.
Sign up for our listserv and be first to know what's happening with the Campaign and when new resources become available.
Check out the Count Us In! Toolkit and many more resources for myriad ideas for getting involved in Attendance Awareness Month (use the left-hand navigation menu to find the latest resources available)
View our past webinars, or attend an upcoming webinar to learn more about this issue and how to get involved.
No matter what you're doing for Attendance Awareness Month, be sure to share it by adding it to our Attendance Awareness Month Map!
For school districts: Ask your Superintendent to join our Call to Action
Host a House Party to help you and your community get ready for Attendance Awareness Month
The Attendance Awareness Campaign is led by five convening partners: America's Promise Alliance, Attendance Works, the Campaign for Grade-Level Reading, Points of Light and United Way Worldwide and is supported by a growing list of other organizations.