It's hard to believe, but we've already begun planning for Attendance Awareness Month this September in partnership with America's Promise Alliance, the Campaign for Grade-Level Reading, Points of Light and United Way Worldwide. Over 35 other national organizations have already agreed to join us again to make sure everyone is aware of the critical importance of going to class every day starting with the first day of school!
Our first webinar is Tuesday, April 8, and will coincide with the release of an expanded Count Us In! toolkit. Last year's version was viewed more than 15,000 times. The April update of our toolkit will include new tools for teachers packaged in our Teaching Attendance toolkit, as well as a revamped Superintendents Call to Action and guidelines for school board members.
We're also asking schools and communities to move beyond awareness activities to take concrete steps toward reducing chronic absence. We've created new data tools and we're adding a feature to our Attendance Action Map for communities that are calculating chronic absence data.
We hope you will join us in our campaign to improve attendance so students have the opportunity to learn and achieve! We believe attendance is even more important with the onset of Common Core, which will make it even more difficult for students to make up for lost time in the classroom.
Hedy Chang
Count Us In! (Again) for Attendance Awareness Month
<![if !vml]>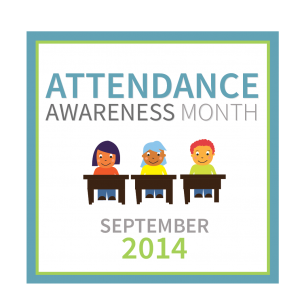 <![endif]>Please join us as we work with national partners to launch the second year of the Attendance Awareness Campaign, which designates September as Attendance Awareness Month!
Tune in Tuesday, April 8, at 1 p.m. ET for a free webinar launching the campaign and learn how to get involved! Register here for the webinar to hear how communities such as Vero Beach, Fla., took action on attendance and galvanized a broad coalition of civic leaders, educators, parents and youth.
Keep in mind that we will hold another webinar, We Need You, on May 28 at 1 p.m. ET. It will offer guidance about how to broaden the engagement of community allies who can help promote Attendance Awareness Month and address barriers to getting to school. Sign up here for updates.
"Teaching Attendance" toolkit guides classroom interventions
<![if !vml]>
<![endif]>Teachers play a key role in reducing chronic absence, but what are the best strategies for teaching children - and reinforcing to parents - the value of attendance?
Our newest toolkit, Teaching Attendance: Everyday Strategies to Help Teachers Improve Attendance and Raise Achievement, is designed to share ideas, handouts and templates. Teachers know firsthand why attendance is important because they witness how absences can disrupt learning, not just for the absent student but for the entire classroom.
We hope our toolkit can help teachers build a culture of attendance and maintain it throughout the school year. We encourage teachers to draw from the resources we have developed to help drive up attendance in your classroom and throughout your school community.
New data tools flesh out patterns in chronic absence
Do you need help with calculating chronic absence? We have just released upgraded versions of our free data tools, including a spreadsheet to combine the District Attendance Tracking Tool (DATT) output for all grades. Read more about the DATTs on our website and register to use it.
Our latest tool combines K-12 chronic absence reports that show data for all schools and across all grade levels in the district. We hope schools and districts across the country will use these tools to start reducing chronic absence.
Brief highlights early literacy, attendance research
A growing body of research documents the corrosive effect of chronic absenteeism on early literacy skills, making a clear case for families and schools to pay attention to this often overlooked issue.
In a brief we created last month for the National Center for Families Learning conference, we pulled together the research showing how these missed days as early as preschool translate into weaker reading skills.
The research also shows that the effects of poor attendance are particularly pronounced among low-income children, who need more time in the classroom to master reading and are less likely to have access to resources outside of school to help them catch up. Unfortunately, low-income children are four times more likely to be chronically absent.
States lack a common definition for chronic absence
A new brief released by the Data Quality Campaign and Attendance Works shows that states are beginning to pay attention to chronic absence, a metric that can identify students in need of support and provide comparative data across states and districts.
This new national portrait shows that 45 states collect student-level information on attendance, and 21 say they are tracking chronic absence. But only 11 of those actually define chronic absence as missing an excessive amount of school for any reason, excused or unexcused.
At least 17 states say they are producing district and school level reports on chronic absence rates. But again, variations in how states understand and define chronic absence make it difficult to compare results.
Attendance Works is a national and state initiative that promotes awareness of the important role that school attendance plays in achieving academic success. It aims to ensure that every school in every state not only tracks chronic absence data for its individual students but also partners with families and community agencies to help those children.
Be sure to follow us on Twitter and Pinterest and like our Facebook page!
Superintendent's Call to Action
District leaders committed to owning the attendance issue, driving with data and mobilizing the community can join our Call to Action, which is jointly sponsored with the Campaign for Grade-Level Reading. Sign up here to receive our updated tools.
Do you love our online tools, resources, webinars and up-to-date information on attendance research and news? Donate to Attendance Works!

Your gift is tax deductible and will support forging a national consensus on the need to monitor, report and address the effects of chronic absence. I hope that you will stand with as and support our work as we work to reduce chronic absence and achieve better outcomes for all students.