California: Take a Team Approach and Develop Staff Capacity
While principals are crucial to launching attendance work, you need the support and buy-in of the whole school community to sustain improvements. Below are tips for how you can take action to build the capacity of your school to engage in this work.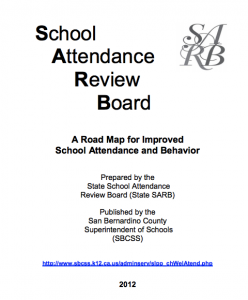 Identify or establish a team to address attendance
Given the large number of responsibilities that typically fall on a principal's shoulders, it is important to identify staff members who can help launch and sustain attendance work. Ideally this would include those familiar with attendance data, parent engagement activities, student behavior and family supports. They should also be able to engage other teachers or staff members since everyone in a school plays a critical role in improving attendance. The team can be devoted exclusively to attendance or be part of an existing team that has attendance added to its functions and responsibilities. This team should meet regularly to review the school's attendance data and coordinate efforts to reduce chronic absence and ensure that the team is working in tandem with truancy prevention efforts.
California state law already requires that a notice of truancy be sent when a student misses three or more days without a valid excuse or is late to class three times by more than 30 minutes. A team working on attendance can take responsibility for ensuring that those notices are sent and that outreach occurs to students and families, whether they are truant or chronically absent. If absences are largely excused, students may not be identified as truant. Regardless, the role of the team would be to contact families by letter or, ideally, in person to let them know that absences are adding up and to find out if students need support to get to class. The attendance team should be responsible for setting up meetings with the students or families who are mandated to receive a School Attendance Review Team (SART) meeting before a student is deemed a habitual truant (Education Code Section 48262). The team can also extend SART meetings to families of students who are chronically absent but may not have triggered a truancy notification because the absences were excused.
An effective school team process incorporates a feedback mechanism for members to learn the outcomes of their meetings with students and families. If the team is unable to resolve a persistent school attendance problem with the family, you may consider a referral to a School Attendance Review Board (SARB) for more intensive intervention.
Develop an initial plan of action
Conduct a school assessment with your team to develop a shared picture of strengths, challenges and opportunities for action and to identify the most critical next steps for putting an effective practice in place.
Create a tiered system of support and referrals
Attendance interventions fit nicely into three-tiered systems favored by many reform initiatives, which incorporate universal approaches affecting all students, a second tier for students who need additional support, and a third tier for those who need intensive help often beyond what a school can provide. Work on chronic absence is easily integrated into Positive Behavior Interventions & Support (PBIS) or Response to Intervention (RTI) reforms, which are now present in many California school districts: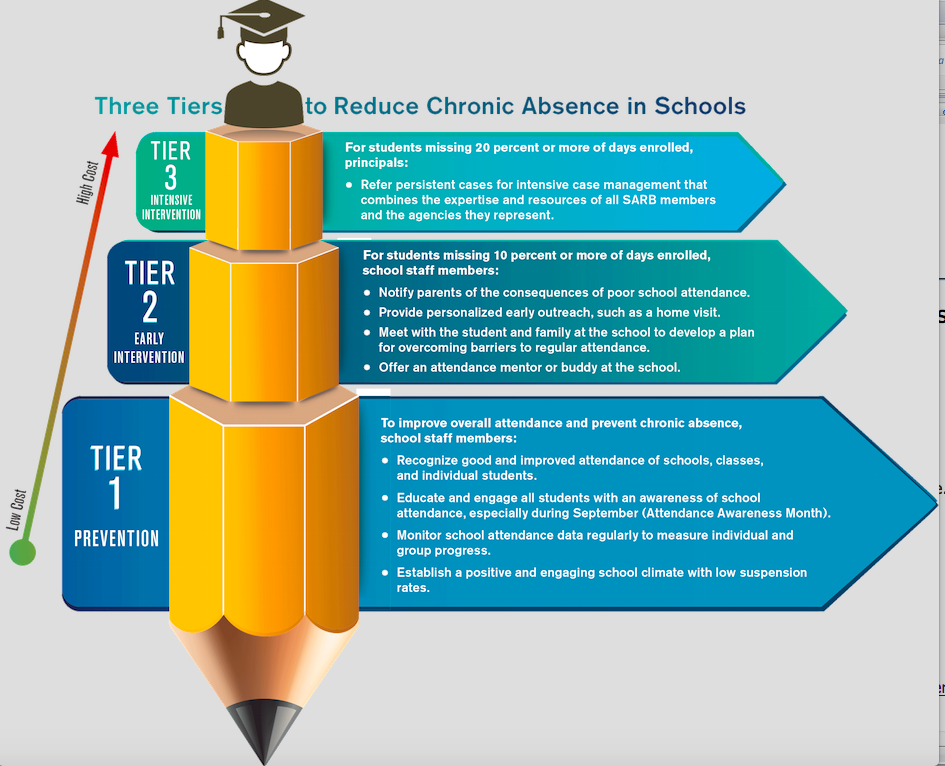 Tier 1 enhancements of school climate, such as systems that recognize good or improved attendance, generally benefit all students.

Tier 2 interventions are generally those that succeed at the school level, such as school team meetings with the family and the student.

Tier 3 interventions, such as a referral to a SARB, are reserved for cases in which the normal avenues of classroom and school intervention do not resolve the situation.
When SARB members meet with students and their parents or guardians, the goal is to identify a solution or appropriate resources for resolving the challenges to attendance. When a principal refers a student to a SARB, a designated SARB member reviews the case to determine whether the school has included sufficient documentation of its efforts to resolve the problem. If the SARB considers the documentation to be inadequate, it will remand the case to the principal for further work because most barriers to attendance can be resolved at the school level.
Principals should ensure that each school can provide increasingly intensive levels of support if students do not respond to initial interventions or if they are struggling with a serious challenge or traumatic situation. A tiered system of supports ensures that students will receive the level of help and encouragement they need to get to school every day.
A strong set of Tier 1 and Tier 2 attendance supports is enough for the vast majority of chronically absent students. For those needing a more intensive level of support (Tier 3), you and your team should tap into the district office and community partnerships.
Attendance Works has developed examples of three tiers of interventions for each of the site-based strategies to reduce chronic absence. Your school team can use this worksheet along with the attached examples to examine whether you have sufficient levels of intervention in place, given the likely number of students in need.
Develop staff capacity
Everyone—from teachers taking roll to school nurses taking temperatures and security guards monitoring the hallways—can play a part in reducing chronic absence. Principals should develop materials and take advantage of district training opportunities to ensure that the entire staff is on board.
Principals should also dedicate a portion of in-service training to discussing the importance of reducing chronic absence and what can be done. You can spell out the effects of missing too much school and share any data you have about patterns in your school. Also, be sure to share tools for messaging to parents at the start of the school year and at parent-teacher conferences, as well as tips for working with students.
The Teaching Attendance Toolkit offers special guidance for adding in a brief conversation about attendance into every parent-teacher conference so that teachers can recognize students for excellent attendance while talking to parents whose children are struggling.
Tap all available district and community resources
For chronically absent students who need a level of intervention beyond what the school can provide, schools should tap into resources offered by the school district and community partners.
Use available state, district and county office of education resources for students facing particular challenges.
If you notice that students from a particular population or with a particular challenge are chronically absent, keep in mind of searching out resources available, often online, from your district or county office of education. Resources are also available from the California Department of Education. Consider seeking supports for the following:
Reach out to community partners
Many of the factors affecting chronic absence originate beyond the schoolyard, so health care providers, community volunteers, nonprofits and business leaders can be important partners. Afterschool providers can help keep track of chronically absent students. Volunteers can help mentor students or safeguard children walking to school. Businesses can contribute prizes for incentives, as well as provide volunteers. Nonprofits, especially those connected to parents, can convey the message that absences add up.
Consider engaging community volunteers in an "attendance buddy program. These buddies—school staff, older students or community volunteers—can check in with students daily, call home for each absence and refer students and families to needed resources.
In addition, encourage your district to invite community members to serve as members of your local attendance review board, or SARB. These boards comprise parents and representatives from the school district, social services and probation departments, various youth service agencies and the district attorney's office. (SARB membership is identified in statute, Education Code Section 48321.) If your local SARB is missing key members, recommend strong candidates to the SARB chair.
The SARB is a very helpful ally to the principal when students have a persistent school attendance or behavior problem and all the normal avenues of classroom and school intervention do not solve the problem. The board's goal is to identify a solution or appropriate resources that are not available at the school level. The SARB may direct the student and/or family to counseling services or may request assistance from other agencies or programs.
Next: D. Advocate for Additional Resources and Improved Policy
Previous: B. Use Data to Determine Need for Additional Support
Return to Introduction: Leading Attendance in CA